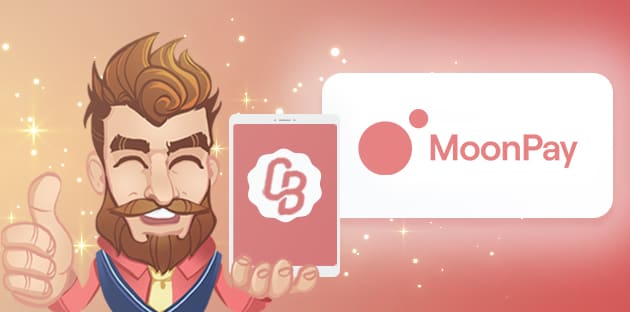 The use of cryptocurrencies doesn't have to be a long and annoying process, especially when you use MoonPay. The service was founded in 2019 by a financial technology company operating from Malta, whose aim was to create a payment solution for crypto that was easy to use.
With more than five million users today, MoonPay allows customers to buy over ninety digital currencies using over 160 fiat currencies. As we previously mentioned, MoonPay users can utilise some of the most popular payment methods, such as Apple Pay, Google Pay, bank transfer and debit or credit cards, to get the job done. It takes less than thirty minutes to complete your purchase and start using it to make online casino deposits.
But how did MoonPay make all of this possible? Experienced gamblers know that Malta is one of the most important gambling hubs in the world and one of the countries that have already embraced cryptocurrencies. The tiny island leads the global blockchain regulation, with many conferences heading to this nation to help the entire industry understand how this technology functions and what benefits it could bring for the world of online gambling.
It didn't take long for MoonPay to get recognition from all over the world. At this moment, the service is available in more than 160 countries and can be used on many leading internet sites and wallets. That said, finding an online casino where you'll be able to use MoonPay is an easy task. Here is detailed information on how to start using this convenient payment method.
As we pointed out, MoonPay was designed to be really user-friendly. It's easy to get started, and the entire process is intuitive. The first step you have to take is to purchase your first crypto, which will automatically open your account. Visit the buy.moonpay.com page to complete the purchase. Choose the cryptocurrency you want to buy, the desired amount, and select the fiat currency you'll use in the transaction. Your next step is entering the wallet address. Keep in mind that your address will be automatically sent if your wallet is on MoonPay's partner list. In that case, you can skip this step. To verify the address, you will have to enter a four-digit code that will be sent to your email. After accepting the Terms of Use and verifying your identity, the confirmation of your order will be delivered to your email address. The entire process should be completed in less than half an hour.
Once the cryptocurrency you bought arrives, you are ready to use your account. You can immediately use it to make online casino deposits.