Evolution's New Live Infinite Blackjack Guarantees a Seat
Evolution Gaming fans will surely welcome the latest news – a new Live Blackjack game is being added to an already amazing range of the best live dealer games available online! Live Infinite Blackjack will perfectly complement the developer's exciting Blackjack portfolio as the first table guaranteeing you'll find a seat any time day or night. 
Live Gaming Leader Keeps Innovating
Since it was founded back in 2006, Evolution Gaming has kept wowing us with top-quality, highly authentic and engaging replicas of land-based gambling experience. Streaming quality is consistently high, dealers well-chosen and fully trained to effectively manage the game while interacting with players, user interface discreet yet extremely functional, and in-game options designed to adapt the entire experience to one's taste. Gameplay remains just as enjoyable when the player switches from a desktop to a mobile device. Most, if not all games are playable in both portrait and landscape mode, with the video, betting area and menus adjusted to ensure perfect visibility, enable easy access to various options and facilitate placement of bets on tiny touch screens.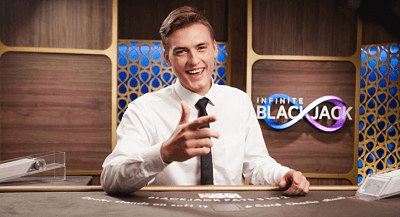 If you have ever visited Evolution's well organized lobby, you will have seen more than 20 or even 30+ Blackjack tables with different betting limits. Bet range is always wide enough to make the experience accessible to players willing to stake smaller amounts and at the same time appealing to high-rollers.  The only downside was that each table offered 7 seats, and if they all happened to be taken, the only choice one would have was to bet behind. With the introduction of Live Infinite Blackjack, this obstacle no longer exists.
"With Infinite Blackjack we finally cracked the code on how to make a one-to-many Blackjack game fun and without having to make any rule changes", says Todd Haushalter, Chief Product Officer at Evolution. "We did this using advanced game software that combines the live dealing of physical cards and virtual cards directly to each individual player. This enables the dealing of individual hands for each player at the table, irrespective of how many players there are at any given time."
Side Bets Steal the Show in Infinite Blackjack
Evolution's Live Blackjack has always been a real treat. No matter which table you were playing at, 8 decks were in use and the dealer had to draw on 16 and stand on 17. If they would turn an Ace, players were offered to take insurance against their opponent's potential Blackjack. They were also able to double on any two cards and split those of identical value.
The mechanics and options would remain the same in newly launched Live Infinite Blackjack, including a discreet menu which provides access to audio and video settings and enables players to view game rules or start chatting with the dealer with a single click. But there's more!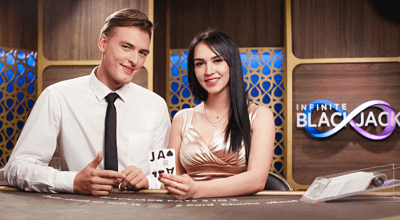 The new game will incorporate a unique 6 Card Charlie rule, and on top of the familiar Pairs and 21+3 side bets, offer 2 additional ones. According to 6 Card Charlie rule, you'll win if you end up with a 6-card hand of value 21 or less – even if the dealer has Blackjack!! Hot 3 side bet will win if your two cards and the dealer's up card form a total of 19, 20 or 21, paying 1:1 for 19, 2:1 for 20, 4:1 and 20:1 for unsuited and suited total of 20 respectively, and 100:1 for three 7's. Bust It side wager wins when the dealer busts with 3 cards or more and pays 1:1 if they bust with 3 cards, 2:1 for 4 cards, 9:1 for 5, 50:1 for 6, 100:1 for 7, and as much as 250:1 for 8 or more. If you're wandering about RTPs, here they are: 99.51% for the game,  96.3% for 21+3 side bet, 95.9% for Pairs side bet, 94.60% for Hot 3, and 93.82% for Bust It.
As far as gameplay goes, all of us will start with the same initial hand but can then make our individual decisions which may result in different outcomes. At the same time, we'll be able to see what the others players decided to do with the same starter hand. Same as other Live Blackjack variants, the latest addition to Evolution's portfolio will became instantly available on tablets and smartphones as well as desktops, and below are some of the features players will find appealing:
Players Always Guranteed a Seat
6 Card Charlie Rule
99.51% RTP
Hot 3 Side Bet
Bust It Side Bet
Available on Desktop, Tablet and Mobile
Todd Haushalter says: "I am really proud of the team at Evolution who worked on this. It truly shows how we are using all sorts of complex innovations, mostly hidden from the player, to make the Live Blackjack playing experience as good as it can be for the maximum number of online players. With this game now completed, Evolution has a platform for developing further great Blackjack innovations, all which I believe will add to players' enjoyment of the game."
While celebrating the good news, Mr. Haushalter's words make us wonder what's next to come. Until it's time for Evolution to reveal yet another great Blackjack innovation, let's all take a seat at the new Live Infinite Blackjack table and check if it can really deal with an unlimited number of players. Not that we'd ever doubt what live gaming master says, God forbid…
While US players can give this exciting game a go at Bitstarz Casino, the rest of you can play Live Infinite Blackjack at LeoVegas Casino.