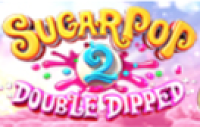 Though no official announcement has yet been made, Casino Bloke has heard it from the reliable sources: BetSoft is getting ready to launch the sequel to their popular Sugar Pop! video slot. The original game has been seeing record-length play sessions since the launch, with its mobile version eagerly rooted for until hitting the market mid-June 2017.
Sugar Pop! the Original
This bright and colourful product, part of BetSoft's suite of Slots 3 games, plays on 5×5 grid. Each candy pop pays, and the popping action happens when 3 or more matching candies touch on either side. When the winning ones disappear, new candies will appear in their place to offer an additional win opportunity. Super Colour symbols multiply the prize, while Colour Bombs initiate an explosion of all visible icons of the same colour.
Levelling up, done by filling the meter on the right of the reels, adds a variety of special candies capable of exploding, expanding, travelling across the reels and populating them with new items.  Clearing the bonus patterns shown on the left adds points and thus facilitates the transition onto the next level. Points accumulated with the help of consecutive wins and by matching the bonus pattern, pay for your ticket to travel to Cupcake Cottage, the Peanut Butter Plains, and 3 other distinct worlds.
What to Expect from Sugar Pop! 2
Casino Bloke, for one, expects all the goodies from the original to be accounted for, with a little extra announced via the subtitle of "Double Dipped". This could potentially translate into bigger multipliers, additional worlds, and/or new powers exhibited by special candy. But even before getting to experience even sweeter rewards, Casino Bloke can predict the success of BetSoft's new release. Tapping into different game universes, the package which has already proven successful will doubtlessly appeal to slot fans but also players faithfully climbing the levels of universally-liked Candy Crush.
While you wait for Super Pop 2 to be released, we recommend trying out some of their other games in top BetSoft online casinos.