Cloudbet Introduce 100 BTC Betting Limits for 2018 World Cup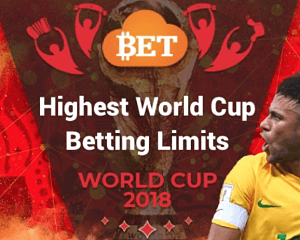 Those with risk infused taste for betting and high rolling gambling style will finally have a season worthy of their appetites, now that Cloudbet has decided to hit the roof with their unparalleled cryptocurrency betting limits, which will put to shame most of the other betting mediators and sports betting platforms.
Cloudbet Ups the Ante – Will Other Bookies Fold or Call?
Wagers that are capped at20 BTC and 140 Bitcoin Cash are not an easy bet to call, let alone raise, which is why Cloudbet will become this season's Mecca, especially for the players who are after large money turnovers and have no interest in small-time gambling.
This is only the beginning, as the bets are buffing up for the grand finale, reaching the staggering figure of 700 BCH (100 BTC) for the World Cup 2018 Finals, which comes up to €600,000 when converted according to the current exchange rate. 
Casual Players are Also Welcome
The mind spinning limits should not, however, intimidate players who are not accustomed to pressing their bets or using Bitcoin for there sports betting; Cloudbet sets the WC minimum wagering requirement to just 0.0001 BTC, or approximately €0.55 and presents the first time Bitcoin users with a unique opportunity of placing completely risk free bet on amounts up to 6.5m BTC for Total Goal, Asian Handicap or Match Winner wagers. In case you lose, the bet will be returned, according to Cloudbet Terms & Conditions – doesn't get any better than that, right?
If you are feeling intrigued, there is more good news – the basic information about Bitcoin and instructions on how to obtain the currency is available on Cloudbet, along with the rest of World Cup 2018 and BTC betting instructions, so why not visit Cloudbet now and see what the fuss is all about.