Free Bet Blackjack and 2 Hand Casino Hold'em Go Live at Royal Panda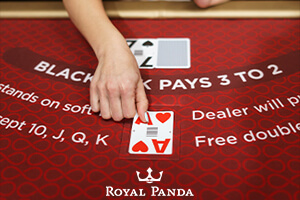 Royal Panda Casino has teamed with Evolution Gaming to offer their players not one but two live dealer games before anyone else! They are Free Bet Blackjack and 2 Hand Casino Hold'em and they will be exclusively available at Royal Panda Live Casino as of 16 May. Stay with us to learn more about early releases.
About Free Bet Blackjack
The new Blackjack game launched by Evolution introduces a few new features. It offers players free bets on doubles and splits under certain circumstances. What sets this game apart from the rest of Blackjack tables is the rule according to which when the dealer busts with a total of 22, all player's winning hands will be pushed. That simply means that instead of winning a prize, you will get your bets back.
Players can take advantage of free double down bets on hard 9-11 and free split bets on 2-9 and Aces. The dealer stands on all 17s. When it comes to the studio's appearance, it looks gorgeous combining a dark red table with golden decorations. Instead of dealing actual cards to the player, the dealer places them in a sliding pocket where they disappear and materialise in front of the player as computer-generated imagery.
About 2 Hand Casino Hold'em
You can easily guess from the game's title what it is all about. Using the rules of the original game, 2 Hand Casino Hold'em allows players to play two hands instead of one. By playing with two hands, the player has an extra chance to beat the dealer. The hand 2 is on the right and it is optional, meaning that you can still play a single hand if you wish so. There is also a side, Bonus bet you can play by staking a double Ante bet.
With 2 Hand Casino Hold'em, Evolution introduces a new studio. It comes with a futuristic backdrop combining silver, black and white. The table is dark grey with the rule that the dealer qualifies with a pair of 4s or better written on it.
Click here to visit Royal Panda and give the two early releases a try at Live Casino tables!