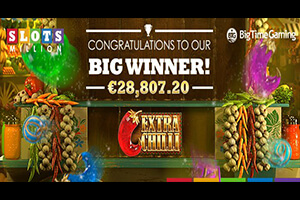 We all wish for a bit more happiness while we're counting down the seconds until New Year, but for one player wishes certainly came true in the best possible way.
One lucky player started the New Year with a bang after he won close to €29,000 while playing one of his favourite slots.
Until we get a chance to experience something similar on our own, we bring you his side of the story about what it feels like to win so much money at the beginning of the year.
Starting out Small
He said that he knew luck was at the tips of his fingers from the moment he started his account on SlotsMillion back on 31 December. Pretty soon his feeling came out to be true and he was able to celebrate what he calls "one of the greatest days" of his life.
He started out small, investing a modest budget of €500 into one of his favourite games by Big Time Gaming called White Rabbit and went on to win more than €3,000. Deciding to keep testing his luck, he went on to play Extra Chilly where he won 16 extra spins after investing €200. It looked like that was all there was to the game until the very last extra spin.
One of the Most Wonderful Moments of His Life
The lucky player won a 10x multiplier and had at least one of the highest symbols in every row.
"My mobile fell out of my hands and my breath stopped for two seconds. I realised that it must be a really, really, really huge amount. As I saw the amount my breath stopped again, but this time for around five seconds," he went on to describe that moment.
No surprise he stopped breathing for a while – the amount he won on that last spin was €28,807.20!
"I didn't know if it was real, so I needed to take a few minutes to realise that this was one of the most wonderful moments of my life!" said the lucky winner.
We believe congratulations are in order so we extend them to the lucky gentleman and we hope that his luck will rub off on us as well!
Click here to visit SlotsMillion for a chance to become the next big winner!