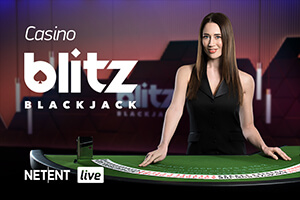 NetEnt launches a new live dealer table called Blitz Blackjack. It is an updated version of their popular table Blackjack Common Draw, and it will be a part of the Swedish developer's new Network Branded Casino (NBC). Stay with us to learn what's new about Blitz Blackjack.
New Name and Visual Update
Common Draw 2.0 or simply Blitz, is a modern version of the popular Blackjack game that contributed to NetEnt's 2014 Innovator of the Year award. The brand new table uses the rules of Blackjack Common Draw, yet its name has been updated along with its visuals. They are designed to match the fast-paced action taking place at the table.
What's more, Blitz Blackjack is a multiplayer Blackjack game, meaning that hundreds of players can join the table and enjoy it at the same time. In other words, there's always a seat for you at the improved version of the Live Blackjack Common Draw table.
As for the appearance of the table, the developer says that the new visual concept emphasises the speed element of the game.
"A lot of thought went into creating a look that really pops," say the good people of NetEnt adding that the improvements have been made to the background, environment, table and UI.
The Latest Innovation from NetEnt
Blitz Blackjack is available to operators as a standalone table with its own environment. It is also available as part of the NBC, the latest innovation by NetEnt Live that went live on 1 October.
The NBC is a new live casino environment with two different rooms. One of them features two standard Live Blackjack tables and a VIP table, while the other room offers Perfect Blackjack, Roulette and Blitz Blackjack.
Click here to visit LeoVegas and give Blitz Blackjack a try!