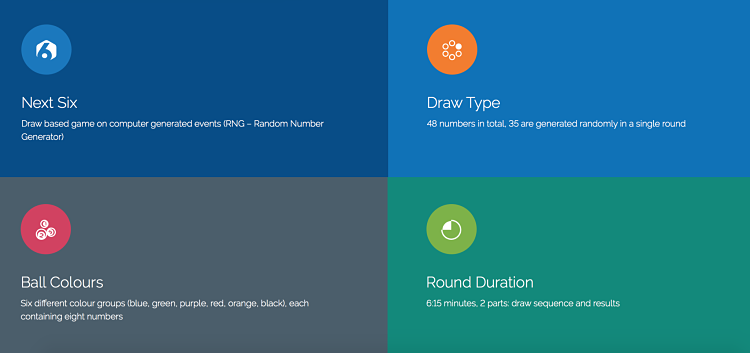 Developed for both online and mobile play, Next Six is as brand new virtual game from NSoft described as a fast paced draw-based game, one of the fastest around actually.
The main attraction of Next Six is the possibility to place bets during gameplay, and not just before the start of the event. Despite its appearance of a classic draw-based game, Next Six reveals innovative features and exciting concepts that make us thrilled in advance.
Next Six Reviewed
The basis of the game remains in the realm of classic lottery games, but the betting period does not end with the start of the draw – players can place wagers on which numbers will be selected from the pool throughout the entire round, from the outcome of a single ball to the next six balls (hence the name).
As most electronic gaming items, Next Six generates outcomes through a Random Number Generator (RNG). The pool contains 48 numbers out of which 35 numbers are randomly generated during the course of a single round. Balls drawn will not enter the pool again until the 35-draw cycle is completed. The duration of one round is estimated at 6:15 minutes, with each round consisting of two parts, the draw sequence and summary of results.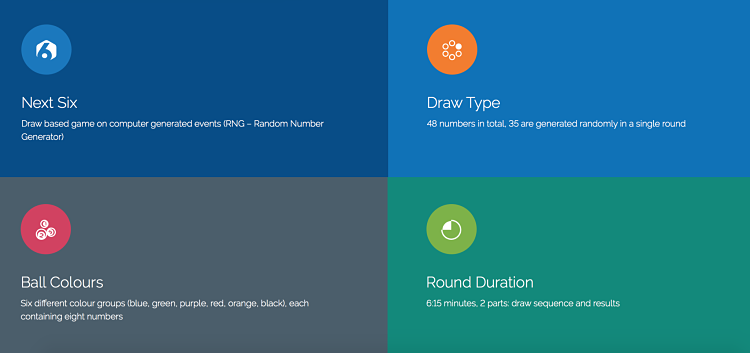 The balls come in different color groups – you'll see blue, green, red, orange, purple and black balls on screen, with eight numbers assigned to each group. Various betting possibilities include Next Ball, Next 2 Balls, 1 in Next Six, Color of the Next Ball, 3 in Next Six and so on.
According to what we know about the game so far, it provides an experience rather similar to live betting. The NSoft game palette, with Next Six in the forefront, has been presented during a two-day event known as the Belgrade Future Gaming Expo at stand A1 of the Belgrade Fair, on May 30th and May 31st, 2017.