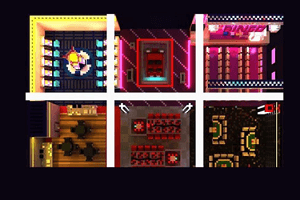 Groupe Patrouche has really come a long way since 1973, when they managed to acquire their first casino. In the last forty years or so, they succeeded in becoming Europe's most prominent casino operator, with more than 43 land-based establishments in France, Switzerland, Belgium and even Tunisia. The Partouche Group also offers a wide range of activities with hotels, restaurants, spa centers, golf courses, SPAs and beaches.
With their latest accomplishment, they are obviously trying to rejuvenate its target audience. Namely, Patrouche has launched their first digital casino in voxel, which represents a mixture of pixels and a video game and is available on Instagram. All of you who have experience with Minecraft will definitely know what we are talking about. The Instagram casino offers nine rooms, and each of the rooms is referring to a certain element of Partouche's universe of casinos and hotels. For example, gamers will find a room for Megapot, one for VR, another one is reserved for Bingo, while one of the rooms is called Player Plus. Of course, there is also a room for Blackjack, and many others.
According to their press release, each of the rooms is carefully recreated, and each of them represents a part of a riddle. Participants who succeed in resolving the riddle will be able to win up to € 1,500 in prizes. All gamers who want to test their luck are sent back to an Instagram page dedicated to the game, and they will have to complete the challenges in order to win prizes. Challenges may include liking and commenting on the images that will help players find hidden objects.
Lots of fantastic prizes are on the table for players who solve all riddles. For example, gamers can win hotel accommodation for two in Partouche hotels, or meals, cocktails, and casino credits. Apart from the latest Instagram casino, and in order to satisfy the needs of their "younger" customers, the Partouche Group is working hard on their new digital strategy, thus introducing numerous innovations and launches.