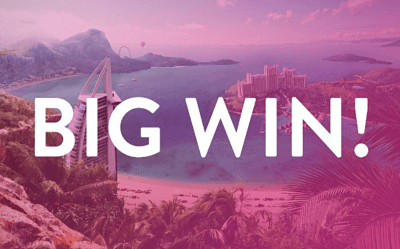 Generous and reliable casinos such as Dunder and Casumo are no strangers to paying out massive rewards to their most fortunate players. In recent online gambling
In recent online gambling developments, there have been several big jackpot hits at both Dunder Casino and Casumo Casino. Surely you want to know more about them, so we'll march straight to the point.
Norwegian Player Wins €302,000 at Dunder
The big win happened at Dunder online casino last week. A player placing bets from Norway on the new Mystery Fruit slot developed by Red Tiger Gaming never dreamed of hitting it big, but it happened!
One lucky spin, and the fortunate winner observed in disbelief how his casino balance grows bigger for a staggering amount of 2.8M NOK (€302k). His happiness was real and justified, as he just received a small fortune. At first, it was a surprise, but it didn't take long for the Lucky Norwegian to start planning how to spend the money.
Eventually, he decided to buy a luxurious present for his wife and go on a family holiday, and there will even be enough left for painting the house and paying off the car. Take your chances at Duder and you can share the winner's luck!
Mega Fortune Dreams Strikes Again at Casumo
Things went from good to great at Casumo Casino when a lady from the UK triggered the jackpot on NetEnt's desktop version of Mega Fortune Dreams slot. The lucky win happened on Friday, 17th of August, making Susan a multi-millionaire. The story gets even more interesting – apparently, she only had £9 left on her account before she hit the chief prize. In a pure demonstration of
The story gets even more interesting – apparently, she only had £9 left in her account before she hit the main prize. In a pure demonstration of courage, she wagered £3, clicked on the Spin button and won £2.7 million! As most players in those situations, Susan was baffled and couldn't believe her eyes. She later confessed that her partner commented how the win couldn't be real. But it sure was! The woman stated that she'd like to use the money to buy a bigger home and fulfil her dream of a roomy house. The next thing would be a big party for her 60th birthday.
Casumo.com has proven to be a very attractive location for players hungry for massive wins lately. In a period of fewer than five months, Susan is the third player to win a jackpot prize of more than one million. During 2017 alone, Casino paid out nearly £10 million in jackpots! In March, there was a £3 million payout on a £2.50 bet on Mega Fortune. The next one came in April – a €4.2 million win on a €1 bet on Mega Fortune Dreams. The last one was scooped on the same slot machine by Susan. Casumo users seem to have initiated a lucky streak, and the best thing about it is that there are multiple possibilities to prolong it.
As of 25th of August players can scoop up €2.3 million on Mega Fortune, €2.6 million if they play Hall of Gods and the same amount on Arabian Nights. So, there are three more huge progressive jackpots up for grabs, and there's no way of knowing for how much longer. The way we see it, this is the perfect timing to visit Casumo Casino!