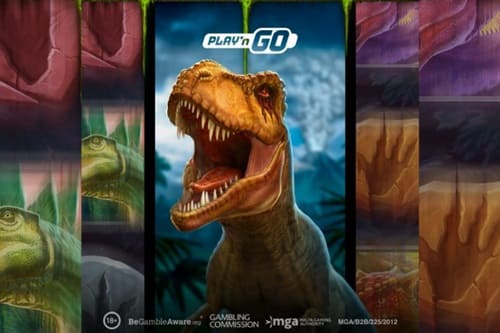 After the success of their first Jurassic endeavour, Play'n GO decided to keep up the momentum. The leading online operator launches the sequel – Raging Rex 2. However, this time he has company
Growing Family
The players will hear heavy stomps leaving the colossal Jurassic footprints of the Raging Rex. This time, they are accompanied by tiny stomps of his hatchlings. The Rex family has more members now, and they are hungry.
We follow from where we left off in the original game. From what we have seen, the Raging Rex 2 certainly lives up to its predecessor. The Dynamic Payways slot will shake players to their core with entertainment.
Boasting a 6×4 grid, Raging Rex 2 already offers amazing winning potential. Creating a huge 4096 ways for players to win, and a chance to win a colossal 30,000x the bet, the slot isn't one to disappoint. Additionally, it presents three Free Spin features: Primal Fury, Hatchling Mania, and Jurassic Mayhem. As a result, players can choose how they shape their game. The game really takes the gaming experience to the next level. Both dinosaurs and slot-lovers will appreciate the detail and nod to the previous game.
Stunning Design
When it comes to visuals, both Raging Rex and his offspring feature a cool 3D aesthetic design to make players feel as if they're transported to Jurassic times. Speaking of, fans of the previous game will be happy to see that the Raging Rex Walking Wild makes a return in the sequel.
Play'n GO's Charlotte Miliziano said: "Players loved Raging Rex and he's back by overwhelming popular demand. Everything in this game is BIG to match the theme. Combining Dynamic Payways, 3D characters, and a chance to win 30,000x their bet."
With the resurgence of a certain dinosaur-themed franchise in the cinemas, could we hope for a Raging Rex trilogy in the upcoming months?