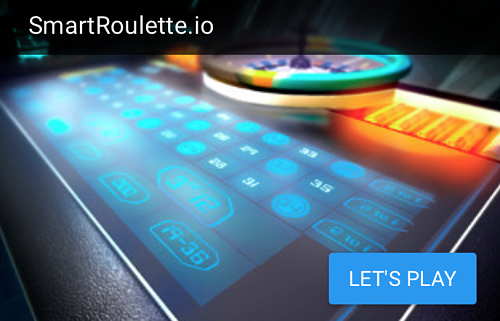 SmartPlay.tech has proudly announced the launch of the first Win-Win Roulette, offering  their players the opportunity to place bets using free bonuses and RLT tokens. The tokens in question have real value with its prices quadrupling.
Win-Win Roulette comes as the second title from this developer, after the beta version of European Roulette was released back in February. SmartPlay.tech uses the latest blockchain technology in developing its products, which ensures the whole game process to be more fair and transparent, preventing any possibility of cheating.
A Game That Pays Dividends
Since February, hundreds of users have tested the game. According to SmartPlay.tech website statistics, more than 15,000 rounds were played, which means more than 37,000 wagers totaling $1.5 million were made since the launch.

Another ground-breaking feature of this roulette is receiving digital shares of the platform, which are known as RLT Tokens. Collect 1,000 tokens and automatically receive dividends on the profit the game has generated.
In the last two months, SmartPlay.tech players and partners earned over $100,000 in dividends only.
RLT Tokens have been listed on Livecoin currency exchange since May 22, where they are available for purchase, which has proven a fully functioning system could be made, even in such a short period of time.
As the founders of SmartPlay.tech stated, the main goal was not only to provide an effective and high-quality product, but to offer a game where everyone could win.
No Hassle, Just Play
To offer an optimal user experience, the developers of the Roulette removed unnecessary installation, seamlessly integrating the player's wallet with the site.
There is no longer the need to create an an account, so the players can start playing instantly. Upon entering the website, players receive a deposit of 200 RLT tokens, which can be used to try the roulette for free, with a guaranteed win after 200 spins.
Also, the bet processing time was cut short without interfering with the game's integrity and fairness.
About RLT tokens
RLT tokens (Roulette tokens) are digital shares of SmartRoulette, whose value is determined by the number of bets placed by users in European Roulette.
A player can get RLT tokens in several ways:
Purchasing them on the exchange
Participating in SmartPlay.tech promotions
Making a Profit
RLT holders can use their tokens to place bets, which will enable them to receive dividends.
When placing bets, players can choose to play for real or bonus tokens. Also, players can opt to sell tokens earned for participating in promotions, or simply sell them at a larger price.
Receiving dividends can prove very lucrative, while the frequency of payments and the amount of dividends received will grow as the project progresses.
Future Plans
Developers have already announced the launch of an advertising campaign to attract new players and promote the whole project.
We can also expect an affiliate program to be launched soon, which would connect a voting system for the owner of RLT tokens.
This way, as shareholders, they will be able to make decisions on activities such as development and promotion, and will even take part in deciding on the launch of new versions of roulette.
The ultimate goal is to ensure that every player enjoys the game and feel proud to be a part of such an innovative gaming solution.