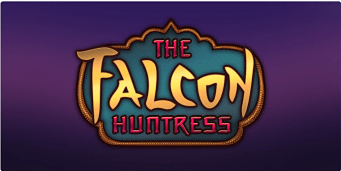 Like Marvin Gaye, Casino Bloke hears things through the grapevine and can, therefore, be among the first to tell you when a developer is about the release an exciting new video slot. This time, the developer in question is Thunderkick, and a game called The Falcon Huntress scheduled for release on 7th February.
Play with the Bird of Pray
Thunderkick has been spoiling us with innovative themes and executions since day one, so we've no doubt they'll surprise us with another unique product. For one thing, there's only one other title featuring falcons that we know of, unless you count Horus, the falcon-headed god worshiped by the ancient Egyptians, which has exploited often enough. At the same time, this interesting bird does own several features one could creatively use in a slot game; it has an exceptional vision, 2.6 times that of your regular human being, and has been known to dive at speeds of over 300 kilometres per hour.
Hunt for Treasures with the Help of a Golden Falcon
While in real life falcon huntress would use a conditioned bird to catch other flying creatures, hares, and possibly some other smaller animals, in Thunderkick's world the hunting will be all about monetary rewards. What the duo will be after are legendary lost riches, and the Golden Falcon likely contribute in more ways than one.
Though the developer is still keeping their bird in a cage, we're thinking it will probably act Wild and possibly multiply rewards or come stacked, like in Not Enough Kittens, another of their newer releases. Either way, you're sure to see a bonus round with a good many free spins, as well as the usual impeccable execution in terms of visuals and sounds. If you want to learn more, stick around; Casino Bloke will provide a full and accurate review of The Flacon Huntress as soon as further information becomes available.
If you enjoy playing games from the highly rated software developer, be sure to visit one of Casino Bloke's recommended Thunderkick casinos here.