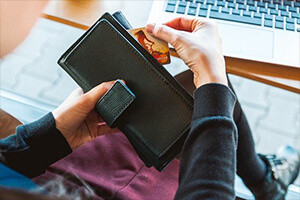 UK players will no longer be able to use credit cards for gambling. The credit card ban will be in full effect in April 2020, the UK Gambling Commission has announced. It will apply to online and offline gaming venues with the only exception being non-remote lotteries.
Additional Protection to Vulnerable People
The credit card ban for online gambling in the UK comes into effect on 14 April 2020. It follows the review of the market carried out by the Gambling Commission and the Government and public consultation that took place between August and November 2019.
It is estimated that 24 million adults in Great Britain gamble out of which 10.5 million gambling online. According to the UK Finance estimates, around 800,000 players use credit cards to gamble. What's more, separate research the Commission has carried out shows that 22% of players who use credit cards to gamble online are recognised as problem gamblers.
Neil McArthur, Gambling Commission chief executive, said that credit card gambling could lead to considerable financial damage.
"The ban should minimise the risks of harm to consumers from gambling with money they do not have," added McArthur.
He also pointed out that there were examples of consumers who had accumulated tens of thousands of pounds of debt because they had been able to use credit cards.
Just One of the Measures
According to the UKGC representatives, the risk of harm to vulnerable people was too high to allow the further use of credit cards. Yet, the ban on credit cards needs to be accompanied by other efforts to reduce gambling harm. The main goal is to ensure that consumers only gamble with money they can afford to spend.
Last year, other stakeholders including Department for Digital, Culture, Media and Sport (DCMS) discussed their growing concerns. Culture Minister Helen Whately said that she had met people whose lives have been turned upside down because of gambling addiction.
"There is clear evidence of harm from consumers betting with money they do not have, so it is absolutely right that we act decisively to protect them," added she.
In the past year, the authorities have introduced a set of tougher measures which include reducing the maximum stake on fixed-odds gaming machines as well as introducing tighter age and identity checks for online gambling. Also, they have secured that five leading gambling operators will donate £100 million for treatment for problem gamblers.
Whether the ban on credit cards will alleviate gambling harm and reduce problem gambling, it remains to be seen. The authorities have announced other measures as well, including a review of the Gambling Act and changes to licence conditions. As of 31 March, they will require all online gambling operators to take part in the GAMSTOP self-exclusion scheme.