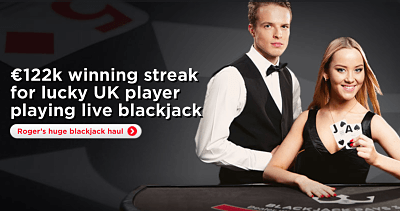 The Royal Panda Live Blackjack table has brought immense joy (and cash, too) to Roger, an extremely lucky player from the UK who just recently grabbed a life-changing amount of €122,315!
His winning streak didn't slow a bit while he was playing, so it comes as no surprise that he was the one entitled to the riches this time.
Blackjack Champ Plays to Win
Delighting in the excitement that Royal Panda's live casino blackjack table brings, Roger:
Chose to make use of the Exclusive Royal Panda Live Blackjack
Profited from extravagant table limits of up to €5,000 per hand
Had the fortune of stumbling upon some lucky cards that helped him scoop the incredible cash reward!
Good work, Roger! Being a Loyal Panda silver player, there is a chance he will be spending some of those Royal Panda credits on the amazing gifts in the Loyal Panda Shop!
About Royal Panda
Don't hesitate to check out the live casino today and participate in the Lucky 21 Promotion happening every 21st of the month and claim your €210 bonus!
With an extensive experience of over a decade, Royal Panda boasts a whole range of exciting games such as video slots featuring progressive Jackpots, live blackjack, roulette, and video poker, to name just a few.
Finally, Royal Panda, the loyalty of their players is highly valued, which is reflected in their Loyal Panda program that awards points regardless of the fact if you win or lose!
The points you receive can be redeemed in the Loyal Panda shop against some awesome gifts. Click here to visit Royal Panda now and see what the fuss is all about.