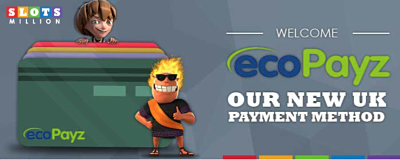 The modern technology and wide variety of online services are aimed at improving our daily life, making everyday tasks much easier.
This also includes making payments or withdrawals, which has dramatically changed over the recent years, while the process itself is still going on.
Here's What You Need To Know
There are many payment methods on the market today, and almost all of them promise to fulfill the needs of a wide audience of punters. SlotsMillion players require efficiency, transparency, simplicity, and security, and that's what they're getting with ecoPayz.
The good news is that ecoPayz has now been made available in the United Kingdom!
For those who are not familiar with ecoPayz, here is a couple of important information. First of all, ecoPayz is an instant payment method that's not new to SlotsMillion players outside the UK. For some time now, ecoPayz has been available to punters in countries such as Finland, Sweden, Canada, Germany, Netherlands, Austria and New Zealand.
Easy To Use
And that's pretty much all you need to know! ecoPayz has a vast experience stretching over a decade and a half. Today, this global payment solutions provider represents an instant, safe and convenient option for players to make their deposits and withdrawals.
ecoPayz is very simple to use. SlotsMillion players will need to go to their Lobby and click on Deposit, then select ecoPayz from the list and choose their deposit amount. After they've done this, they'll be redirected to ecoPayz' account validation page, where they'll need to enter their details and click on Log In. Afterward, they only need to select the account they want to use and click the Submit button.
That's it. You can now use ecoPayz.
So remember: if you're looking for a safe and secure payment method, your quest is over. Deposit with ecoPayz today and start playing at SlotsMillion.