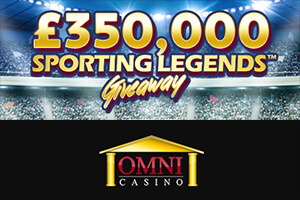 Between 18 June and 15 July, Omni Casino hosts a £350,000 Sporting Legends Cash Giveaway promotion with no fewer than 11,380 cash prizes.
The luckiest casino customers who earn ticket entries while playing the selected slots will win prizes ranging from £10 to £5,000 in cash in weekly draws. Let's take a closer look at the promotion and learn how to lay your hands on one or more prizes.
How to Join Cash Giveaway
All you have to do to qualify for weekly draws and win one of the 11,380 cash prizes is to play the selected slots. There is no fee or opt-in required and every £10 in total wagers you make on the qualifying slots will earn you one ticket entry for four drawings held on a weekly basis. What's more, if you obtain ticket entries during each of the first three weeks of the promotional period, you will get double ticket entries for all £10 wagers you make during the last week.
The number of tickets you can earn is unlimited which means that you can win unlimited prizes. Keep in mind that the earlier you join the Giveaway, the higher the chances to win one of the prizes.
About Sporting Legends Game Selection
Omni Casino running on the Playtech-powered is home to high-quality slot games. The qualifying ones for this promotion include the titles from the Playtech's Sporting Legends series linked to progressive jackpots that can award some mind-blowing prizes. The suite of slots including Frank Dettori Sporting Legends, Top Trumps Sporting Legends and Ronnie O'Sullivan Sporting Legends is launched to celebrate the champions of the sporting world and each of them offers three jackpots – daily, weekly and a Mega Jackpot.
Other slot titles you can play to win one of the prizes in the £350,000 Sporting Legends Cash Giveaway are Gem Heat, Gladiator Road to Rome, Heart of the Frontier, Batman V Superman and Epic Ape. Get ready to join the promotion on 18 June and you can win a prize of up to £5,000 with no wagering requirements attached.
Click here to visit Omni Casino and try to win one of the 11,380 prizes in cold hard cash!