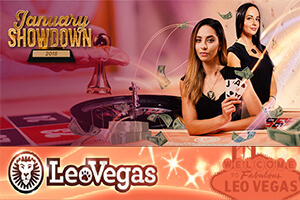 World-famous LeoVegas Casino hosts the January Showdown promotion that you can opt in to and play the best of 2017 Live Casino games, getting the opportunity to win in different ways each week.
The promotion will be held throughout the five weeks of January, giving players a chance to win bonuses, cash prizes and an iPhone X. It consists of five stages: Roulette Lucky Numbers, Bonus Card Bonanza, iPhone X Draw, Happy Hours and €10,000 Giveaway.
Promotion Periods
Between 1 January and 7 January, you can wager €5 or more straight up on the numbers 20 or 18 at LeoVegas Live Roulette and if your bet wins, a €15 bonus will be credited to you. You can get up to three bonuses per day.
During the next week, between 8 January and 14 January, you can win random random Bonus Cards worth €5, €10, €15 or €20 if you play LeoVegas Blackjack 1 and LeoVegas Blackjack 2 between 16:00 and 18:00 and LeoVegas Blackjack 3 and LeoVegas Blackjack 4 between 18:00 and 21:00. Up to 100 Bonus Cards can be won each day.
With every €20 you wager on any Live Roulette table between 15 January and 21 January, you will get one ticket for the iPhone X draw. The live draw will take place at the Celebrity Blackjack table at 18:00 on 22 January.
Happy Hours
You can also join Happy Hours between 22 January and 26 January to get a ticket for the iPhone X draw and a €10 instant bonus each time you are dealt a blackjack. To get a ticket, you should play at the LeoVegas Blackjack 1 table between 11:00 and 13:00 and the LeoVegas Blackjack 2 table between 13:00 and 15:00. The draw will be held on Monday, 29 January at 18:00 at the Celebrity Blackjack table. If the table is full, you can bet behind and still get a ticket for the iPhone X draw.
Finally, you can join the €10.000 Giveaway which will be held at the end the January Showdown. Play at any of Live Casino tables between 27 January and 31 January and climb up the leaderboard to be one of the best ranked 50 players who will share a €10,000 prize pool.
Players can join this promotion from their desktop or mobile devices. Keep in mind that each stage of the promotion comes with its own set of rules, so read them thoroughly before you start playing.
Click here to visit LeoVegas and enjoy an immersive gaming experience at live dealer tables to try and win attractive prizes!