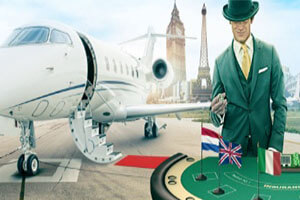 Swedish Mr Green has a great deal in store for you, a deal that may not only fill your pockets with cash but may also send you on an all-inclusive European holiday of your dreams.
Every week, a lucky player will have a chance to visit one of the six destinations around the Old Continent, while 50 more players will receive Cash Prizes.
The campaign is divided into five parts, lasting until August 30, so you'll have plenty of time to try and win the grand prize. But don't despair if you stay home, there are hefty consolation prizes available.
Do you have what it takes to be the winner?
European Getaway Or Cash Prizes
Each week during the promotion, one lucky player will get an all-paid and all-inclusive holiday in one of the European cities of his/hers choice. From London to Athens, from Madrid to Lisbon. Why not Paris or Amsterdam? The choice is entirely up to you!
The €3,000 holiday includes return flight tickets for two, private return airport transfers, three nights at a four-star hotel, breakfast, entertainment (which will depend on the chosen destination) and €250 pocket money.
But wait, there's more. If you don't manage to win the grand prize, €1,000 will be divided among 50 players, drawn on a weekly basis. The prizes will be distributed in the following way:
1x €250
1x €150
1x €50
2x €25
15x €15
30x €10
All Cash Prizes are free of any wagering requirements.
How to Win
Here are the campaign dates:
Week 1: July 31 – August 2
Week 2: August 7 – August 9
Week 3: August 14 – August 16
Week 4: August 21 – August 23
Week 5: August 28 – August 30
Tables will be open every day from 14:00 CEST till 02:00 CEST. All you need to do is to play NetEnt's Around the World roulette table during the promotional periods. After 10 played rounds, you'll receive one entry. The more you play, the more entries you'll be able to get, while the maximum amount of entries on a daily basis can't exceed 50.
The draws will be held exactly one day after the weekly promotional period ends.
Visit Mr Green Casino to try and win an all-inclusive European holiday of your dreams or other prizes.