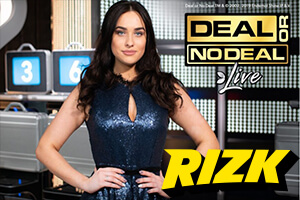 Deal or No Deal is a new live dealer game brought to you by Evolution Gaming. To celebrate its launch, Rizk Casino hosts a tournament with a €10,000 prize pool. If you join it, you can lay your hands on up to €3,000 in cash!
How to Qualify
The promotion runs between 2 May and 8 May. To take part in it, you need to wager at least €20 on Deal or No Deal. Each €20 you wager on the new live dealer game earns you 1 point. The more points you obtain the higher on the leaderboard you get. The 100 players with the most points will be included in the final raffle. A total of 30 tickets will be drawn and their holders will share a prize pool worth €10,000.
The prizes will be awarded with no wagering requirements attached and distributed as follows:
1st prize €3,000
2nd prize €2,000
3rd prize €1,000
4th prize €700
5th prize €600
6th prize €500
7th prize €400
8th prize €300
9th prize €200
10th – 15th prize €100
16th – 20th prize €80
21st – 25th prize €40
26th – 30th prize €20
The final raffle will take place on 9 May at 16:00 CEST. Term & Conditions apply. Players for Sweden are excluded from the promotion.
How to Play Deal or No Deal
The latest addition to the Evolution Gaming portfolio is based on the popular TV show of the same name. It is full of hard choices bringing the excitement and anticipation of the original game show to Live Casino. To play it, one has to qualify for the show by spinning three golden wheels until all three positions in the locked segment are golden.
The wheel shows three modes. The Normal mode requires the lowest bet and is the hardest way to get into the next show. The Easy mode comes with one position already in the locked segment and each spin more expensive. Finally, the Very Easy mode has two positions in the locked segment meaning that your odds of qualifying will be higher, but it is the most expensive option.
The amount of your bet also determines the available prizes within the briefcases. After you have qualified for the game, you can spin another wheel to boost the prizes inside your favourite briefcases. This comes at a certain price though, so make your decisions wisely. A total of 16 briefcases will be presented to you with several of them opened at a time, just like in the original TV show. After each round, the Banker will give you a deal you can accept or leave.
Click here to visit Rizk and play Deal or No Deal for a chance to win a share of €10,000!