Play Jumanji Slot at Royal Panda Casino and Secure 60 Royal Spins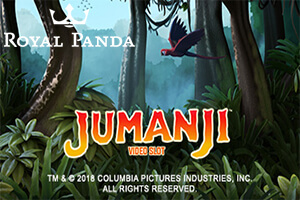 The adventure of your life is just around the corner, over at Royal Panda casino where 60 Royal spins are in store for those brave enough to roll the dice and finish the game.
This Friday, 22 June, the portal to the Jumanji universe will be wide opened for the next two days, until 24 June, and every player who deposits £25-£150 before the cut-off time at 23.59 CEST will be awarded 20 Free Spins.
More Free Spins will be unlocked on higher deposits; with the £150 – £250 entries, the players will double the number of Free rounds and for all entries over £250 you will get to play with 20 Royal Spins.
The freebies will be available in less than 24 hours and no later than noon on the following day, you will be all set and ready to roam the jungle, run in front of the stampede and do your best to survive the Monkey Mayhem and the Monsoon season.
Two more days to go, so you better gear up – the Jumanji jungle welcomes you!
Click here to visit Royal Panda and get up to 60 Royal Spins!