Pocket a Share of 13,000 Free Spins at Mr Green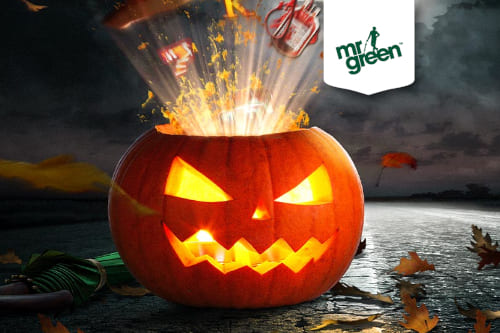 The ever-generous Mr Green has prepared a real treat for all of his loyal followers. Now is the time to find out which of the players are fearsome daredevils, and which of you are scaredy-cats because a Spine-chilling Free Spin Challenge is beginning.
A total of 13,000 Free Spins will be shared among 181 lucky winners and can be used on Book of Madness and on Xploding Pumpkins. The top player on the leaderboard will pocket 1,300 freebies.
Wager More to Snatch a High Position on the Leaderboard
The rules of this challenge are rather simple since there are only two games that you can play during the promotional period, which runs from 15th October to 31st October. Simply opt-in and wager on either Book of Madness or on Xploding Pumpkins.
The trick is to wager as much as you can since the position on the leaderboard is calculated by the total amount wagered during the Spine-chilling Free Spin Challenge. If it happens that two players have the same score at the end of the promotion, the player who got the score first will end up on a higher position.
A Total of 181 Prizes To Be Shared
The quickest and the luckiest among you will get a share of 13,000 Free Spins. Depending on your final position on the leaderboard, you can win as many as 1,300 freebies, which is the first prize. Second-best will walk away with 700 Free Spins, while 500 freebies are the prize for finishing third.
Players placed from 4th to 10th position will get 200 freebies each. End the challenge between 11th and 21st place to win 100 Free Spins. All the other of the 181 winners will pocket 50 Free Spins.
Remember that you can use 50% of your reward on Book of Madness, and the other half on Xploding Pumpkins. Click here to visit Mr Green Casino for more information about this spine-chilling offer.