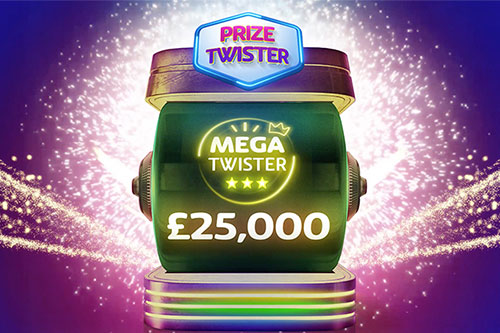 PlayOJO Casino has come up with an amazing offer to all of its fellow OJOers. The name of this promotion is Prize Twister, and here you can win up to €20,000 in only three spins of the reels. There are three twisters players can spin, and all three of them come with a different prize.
This is a three-tier game, and, depending on your skills, you can win €500, €2,000, or the top prize of €20,000.
What Are the Prizes?
Well, as we have already mentioned, there are three different prizes you can win. First, there is the Mini Twister, offering €500. Next, we have the Super Twister, worth €2,000. Finally, there is the Mega Twister, carrying a grand prize of €20,000 in cash!
To win any of them, you need to take the Prize Twister for a spin. You can spin three different reels, each carrying a prize or a field that will allow you to move to the higher level or the next reel. On the first reel, you can win the Mini Twister.
If you move from the first reel to the second reel, you will immediately be battling for the Super Twister. With the little help of Lady Luck, you will advance to the third reel, and spin for the ultimate prize of €20,000.
How Do I Enter the Promotion?
There are no hidden restrictions that will spoil your fun while enjoying the Prize Twister promotion. It is completely free to play, but first, you need to be registered at PlayOJO Casino. That is the most important condition you need to meet to win one of three prizes.
So, click here and create an account with PlayOJO Casino if you haven't done it already, and you can start. Every prize that you get is yours immediately, with no wagering requirements. Also, there is no time frame you need to be aware of. The Prize Twister promotion can be enjoyed anytime you like.