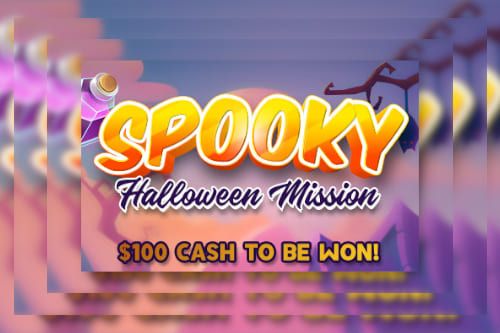 It is that time of the year when everybody is preparing for Halloween, one of the spookiest holidays across the globe. The goal is to make the best costume and to be the scariest creature on the street, as well as to frighten as many people as you can.
Vegas Crest decided to prepare special treats for the bravest among gamers and who are not scared of creepy creatures that will be roaming the streets these days. If you are brave enough to complete one of the Spooky Missions prepared by the good people of Vegas Crest, you will win $100 in cash.
Four Missions For You to Complete in October
Every week, starting from 1st October, you will have a chance to complete one mission and win $100. Due to the fact that the promotion runs for four weeks in total, there are $400 to be won during the promotional period.
You can try to complete missions every Thursday and Friday of the week. Your First task will be to play Halloween Toons trick or treat when you trigger the feature and play the Bonus round. The second spooky mission is called "Things that go bump in the might are usually Monster Clones!", and here you need to play Monster Clone and land 10 consecutive wins.
Wicked Reels are waiting for you on week 3, and here you need to win $20 or more in a single spin to get the $100 prize. Finally, play Spooky Circus on week 4 and lose 5 times in a row to win the main reward.
Everybody is Invited to Join the Party
There are no restrictions when it comes to which of the players can join the action, so click here and create an account with Vegas Crest if you want to participate. The most important fact you need to remember is that only the bravest among gamers will be able to complete the missions.
If you think you have what it takes and that you won't chicken out before the end of the mission, then come and claim your prizes. Four prizes are worth $100 each, meaning that you can pocket $400 in total.