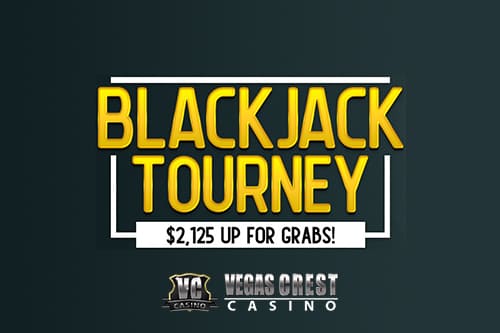 This September is reserved for exciting Blackjack tournaments at Vegas Crest Casino. Every weekend in September, players will be able to enter three-day tourneys, which begin every Friday and end on Sundays.
There is an entire list of selected Blackjack games you can enjoy. Just make sure you play the ones from the list. Otherwise, you will not collect points for the leaderboard. Battle your way through the top each weekend to win a bigger portion of the $2,125 prize pool. There are 20 cash prizes to be won, the biggest being $1,000.
Play One of 10 Blackjack Games on the List
That's right. There are ten different games you can play in this exciting Blackjack Tourney. Pick between Vegas Strip, Atlantic City, Single Deck Blackjack, Blackjack, American BJ (BetSoft), European Blackjack, Blackjack (3 Hand), American BJ (Habanero), Blackjack Multi-Hand, and Black Jack.
It doesn't really matter which of the games you play. Choose one or more than one. It is up to you. The most important thing to remember is that only the games from the selected list will contribute to your points for the leaderboard. The tournament is based on best-equalized winnings over five consecutive rounds.
Win One of 20 Prizes
In case of a tie, the player who achieved points first will get in the higher position. There are 20 prizes on offer, the biggest one being $1,000. However, only the first prize comes in cash. The other 19 are Casino Bonuses. Finish second and walk away with $500. The player who ends the race third will get $250. Find yourselves in fourth place and receive $400.
The player placed fifth will secure $50. Finish the race between the sixth and tenth place and pocket $25. Players positioned between the tenth and twentieth place will get $10 each. Click here and visit Vegas Crest Casino if you want to test your luck with one of 10 Blackjack tables. Come back every weekend in September for a new share of $2,125.