Win Wild Cards Worth up to €100 on Live Blackjack at Rizk Casino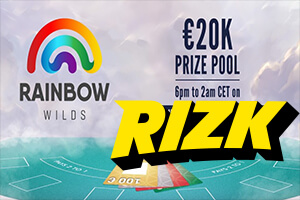 Blackjack promotions are rare and Rizk Casino hosts a fantastic promotion for all Blackjack fans this autumn with €20,000 in guaranteed money prizes. What's more, it is tailored for players who prefer live dealer games, so stay with us to learn how to win your share of the prize pool.
How to Enter
You don't even have to be an experienced Blackjack player to win. Of course, those who win while playing Live Blackjack have a chance to increase their winnings if they enter the promotion that runs until 10 November. Every day, special Rainbow Wild Cards with different money prizes will be added to the card boxes on dedicated Vegas and Macau Evolution Gaming tables. To win one of them, you have to play Blackjack at these two tables every night between 18:00 and 02:00.
To enter the promotion, all you have to do is to play a minimum bet of €5 per hand on the Vegas table and €10 per hand on the Macau table. If you get a Rainbow Wild Card, its value will be credited to your rewards section whether you win or lose that hand.
Card Values, Terms & Conditions
More than 900 Rainbow Wild Cards in total will be added to the shoes on the two featured tables during the promotion. The €20,000 prize pool will be distributed as follows:
62 Gold Cards worth €100 each
60 Silver Cards worth €50 each
300 Red Cards worth €20 each
480 Green Cards worth €10 each
A player can occupy only one seat at a table during the promotional period and cannot place bets behind. If you win a Wild Card, it will be added to your account within 72 hours. You have to claim a cash prize within 7 days. It is possible to receive multiple Rainbow Wild Cards during a single hand. In this case, you will get a money reward equal to the total value of the cards received. If the dealer gets a Rainbow Wild Card, it will be returned to the shoe.
Click here to visit Rizk and join Vegas and Macau Live Blackjack tables for a chance to win a Rainbow Wild Card worth up to €100!