Betsoft Adds New In-Game Tool Across Its Portfolio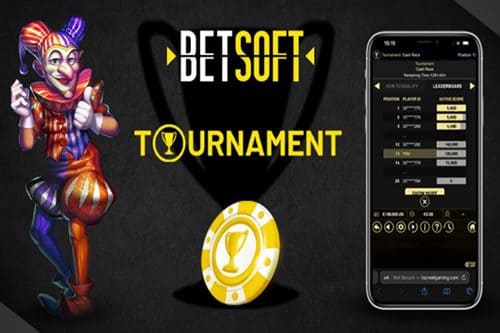 Betsoft Gaming adds the newest in-game tool to Drive – its comprehensive toolbox of products. Tournament will bring a new dimension to immersive play through promotions with real-time gamification for more win opportunities.
The Drive promo toolbox provides standalone or combined applications across the award-winning portfolio. One of the first Betsoft Drive products was Take the Prize. It offers a randomly triggered fortune wheel with cash prizes or bonuses at any point in a game without interrupting the sessions. This customisable tool brings in-game experiences with real-time notifications, instant rewards and a highly inventive UI for the ultimate user experience.
Take the Prize
Take the Prize enabled Betsoft to set up two successful Network Promotions in June and September 2022. With bets up by 25% + and players participation by 30% + for the first promotion. The second promotion included an even larger prize pool and a wider choice of Betsoft titles. Besides 40+ slot selection, new releases were a part of the second promotion, as well. Titles such as Gemini Joker, Wilds of Fortune, and Captain's Quest, Treasure Island, were among the games most popular with the players.
Tournament
In order to reinforce this successful approach, Betsoft announces the launch of a second in-game tool. Tournament aims at a competitive, high-value player base, bringing a new level of gamification to substantial prize potential and frequent wins.
It provides leaderboards on each game which constantly update in real-time. Thus, players will be able to track their own and other players' progress throughout any promotion. This tool will not interrupt gameplay or affect RTP.
Furthermore, Betsoft ensures that both tools are especially mobile-friendly and available across all devices. Each tool works effortlessly on its own, they can also be combined simultaneously on the qualifying games and across the same promotion and timeframe.