LIST OF ONLINE CASINO SLOTS
Casino Bloke has reviewed loads of online casino games but obviously doesn't expect you to read all of his reports; at least not all at once. Filters have been provided so that you can first explore those that fit your interests the best.
If you have a favourite developer, use Software filter to display only their games. Narrow your choice by picking one of the game categories and, if you wish, streamline it further by choosing specific feature, RTP and/or volatility.

ONLINE CASINO SLOTS PLAYED FOR REAL MONEY
Many players are happy to spin reels or get dealt a set of cards without looking to win real cash. On the one hand, some punters keep playing for fun forever just because they can. However, others, encouraged by their great performance in the fun mode, eventually switch to real money play. Finally, there's the third group that decided to accept the risk on day one.
No matter what profile you belong to, it's good to have a choice. That's why leading operators offer both free-play and real-money slots. So, if you decide to invest real money in your hobby and try winning for real, casinos should enable that.
Some of the best real money slots are the most rewarding ones. For instance, progressive jackpot games like Divine Fortune, Gladiator and Mega Moolah are always a good call. A good online gaming brand will offer an ample selection of slots for real money. Check out the list below to see what's currently available and read respective slot recensions.
LIST OF POPULAR REAL MONEY CASINO SLOTS
MOST FREQUENTLY PLAYED SLOT GAMES ONLINE
Some online slot games are more popular than others. The reputation is typically based on solid reason and evidence. In further text, we will tackle the pros of each of these types of games. Additionally, we will discuss what the magic ingredient in those popular online slots is. Ultimately, we will hit you with a diverse list of slot recension texts for each type of slot games.
Truth be told, every single game doubtlessly has a bigger or a smaller fan base. Casino Bloke will explore them all eventually. Nevertheless, for the time being, he has chosen to focus on those that are most frequently launched and played.
VIDEO SLOTS
Video slots are arguably the most opulent division among online slots. Gamblers love them because they are visually appealing and boast phenomenal graphics. But that's not all. As they are modern and so advanced, video slots show off more immersive gameplay. For example, in video slots, you will see more bonus rounds and free spins than in traditional slot machines.
A sensational sub-category of video slots are 3D slots. What singles them out is the almost literary element. Namely, 3D slots feature a narrative or a story that links every step of the game together. There are distinct characters, the antihero, the genre as well as a plot towards which you should work to win. To get to the next chapter, you need to unlock the current one. At the end of the game, you'll feel as if you read a tale. Eventually, it all comes full circle in 3D slots.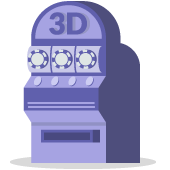 CLUSTER PAYS SLOTS
Cluster pays mechanics is one of the freshest additions in iGaming. The number of slots with this system is still somewhat limited. Nevertheless, all prominent manufacturers have a bunch of such games in their portfolios. Cluster pays slots are thrilling and more engrossing than any other type. Looking a lot like a round of Tetris, it requires you to match symbols. Then, the matching tiles will disappear making way for new symbols to show up.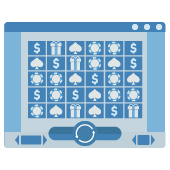 CLASSIC 3-REEL SLOTS
For those of you who find 5 reels overwhelming, we would recommend trying out classic slots. Not only are they easier to grasp, but they're also a good jumping board for moving onto more complex games. Or, if you're not interested in switching to 5-reel games, you can play classic slots for fun. Many slot enthusiasts prefer the traditional feel that 3-reel virtual cabinets have. Thus numerous providers still develop such games.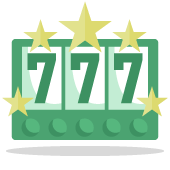 PROGRESSIVE SLOTS
Progressive jackpot slots are as old as time. In technical terms, they are completely different than standard slots. Yes, both categories run on RNG software and are unpredictable. However, the final reward in progressives depends on the total wagering amount provided by players. The ultimate jackpot rises with each new deposit. Finally, one lucky winner benefits from the multi-digit sum.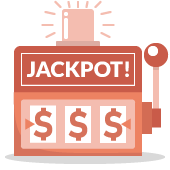 ONLINE SLOTS FAQ
Most common questions related to online slots
GENERAL
This is not an easy question to answer as more than a few developers provide excellent titles that look great, incorporate innovative features and offer large rewards. You can find top-notch games produced by leaders like NetEnt, SG, Microgaming and Playtech but may equally enjoy slots developed by BetSoft, Play'n GO, Yggdrasil, Big Time Gaming and even small brands such as Old Skool Studios and Rabcat.
Classic slots resemble traditional slot machines; they use simple graphics and mechanism, have basic themes and few if any special features. Most classic slots have only 3 reels and 1 or a few paylines. They are ideal for new players though many seasoned fans also keep choosing them over video slots. The latter play with 5 or more reels and multiple paylines, usually between 15 and 30. They have a definite theme and a storyline linked to it, feature intricate visuals, animations and audio effects, and incorporate a variety of special symbols and bonus rounds.
RTP stands for "return to player" and is expressed as a percentage of amounts won vs wagers placed. It's always lower than 100% (house, eventually, does win) and tells you how much the game is expected to pay over hundreds and thousands of spins/rounds. Though you won't necessarily get the same result during your own time-limited gaming session, it's a good tool for managing expectations and for comparing one game to another.
Many players do, but there should be a good reason for choosing a slot with an RTP significantly lower than average. For example, you'll find that titles with a progressive jackpot usually have quite low RTPs but are still frequently played owing to the size of the top prize.
Live Roulette and Live Blackjack are the most frequently featured live dealer games. If the casino offers Evolution Gaming products, you'll normally also find Live Baccarat, Dragon Tiger, various Live Poker games, Live Dream Catcher, and sometimes Live Sic Bo and Top Card. A few other developers additionally offer lottery-style live games and/or traditional Asian games such as Bull Bull and Fish Prawn Crab.
The world's best slots come from acclaimed software developers such as Microgaming, NetEnt, Pragmatic Play, and Play'n GO. Check out Bloke's top 10 slot list for the best-ranking titles.
TECHNICAL QUERIES
In the online gaming world, volatility and variance are one and the same. Both are an indicator of risk-to-win ratio, with low volatility games paying more modest amounts relatively frequently and highly volatile ones paying fewer but larger prizes.
It totally depends on what you're after. Players who want to enjoy a game for as long as possible on a limited budget and hopefully end with a small profit should choose low volatility games. Those that wish to collect large payouts and are happy to take the risk of losing it all should go for highly volatile titles.
At a classic online casino, you can either play an RNG poker game against the computer or a live dealer game against the dealer. In online poker rooms, players test their skills against each other in different kinds of tournaments.
To start with, you should pick an online casino with a valid operating license and good reputation (if in doubt, check Casino Bloke's list). Secondly, make sure that the website displays the name of a third-party organization which has tested and certified RNG used. Ideally, it will come with a link to the certificate and/or the latest RTP report.
Normally, mobile casino games can be played on different Apple devices, such as iPhone 4s or later, iPad 2+ and 5th generation iPod Touch, Android smartphones/tablets that support the latest versions of Google Chrome, Blackberry and Windows phone.
Most online casinos feature a mobile site which is accessible online via your web browser. It usually looks almost identical to the desktop version and is used exactly the same way, though navigation may be adapted to small touch screens. Mobile sites can be accessed via a range of different smartphones and tablets, not only Apple and Android but also Blackberry and Windows phone. Some casinos additionally offer a downloadable app for Android and/or iPhone as an alternative. They are adapted to these specific devices and may provide a better user experience but often offer a smaller choice of games than a mobile site.