About Apple Pay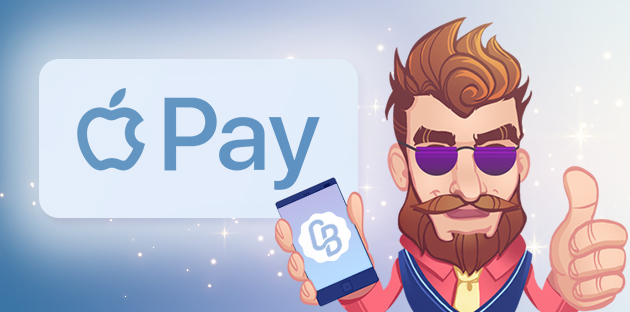 Apple Pay was developed and launched by Apple Inc. in the US in 2014. It was devised as an electronic wallet and a mobile payment system with a clever design, simplicity and convenience of use. Since it became operational, the service has expanded rapidly. Now, it is available in various regions worldwide, for example in countries such as France, Spain, Switzerland, China, Singapore, Australia, Canada, Russia and New Zealand. Apple Pay came to the UK in 2015 and that's where a significant rise of Apple Pay casinos was noted.
The ability to make payments just by using your phone is no longer such a novelty. It wasn't when Apple Pay came out and it's no surprise that there are alternative pay-by-phone services around, yet they do not offer such a high level of convenience and the same advantages. Apply Pay is supported on the iPhone, Apple Watch, iPad, and Mac devices. It can be used at contactless-capable point-of-sale terminals and other than performing as a contactless payment solution, it also comes with the addition of two-factor authentication via Touch ID, Face ID, PIN, or passcode.
How to Make Deposits and Withdrawals with Apple Pay
How does Apply Pay really work? This is how, and we'll try not to be overly techy about this. The first step of making a payment is to choose a reputable Apple Pay casino. Register an account at the selected casino and head to the payments section. The list of available banking options will be at your disposal, so the next step would be to choose Apple Pay as your preferred method of payment.
Then, enter the amount you wish to upload, within the casino's deposit limits. The next thing is to authenticate the transaction using Touch ID on your iPhone, Apple Watch or another compatible device. A fingerprint or face ID is necessary, or else the transaction won't go through. Apple Pay, in a way, operates as an intermediary tool which lets you deposit funds from debit cards and credit cards, but without the need to share your information. It can store eight or 12 cards depending upon the device.
WILL I BE ABLE TO WITHDRAW?
The Apple Pay service can only be used for topping up your gaming balance. This means you have to look for an alternative method when it comes to your executing casino withdrawals.
Fees & Timeframes
Deposits made via Apple Pay are instantaneous. In other words, the funds you've transferred are made available for gambling use right away. There are no fees levied on the transactions. Instead of charging players, Apple Pay charges a small fee to the operators. Nevertheless, as an Apply Pay user you will be charged 3% on the amount you've funded the wallet with using a card. Exact deposit limits depend on the operator and should be checked before making a payment.
Did you think Apple Pay is the perfect banking method? Well, that's debatable. One thing it lacks, though, is the possibility to receive withdrawals from online casino accounts. This is arguably the systems biggest drawback. Even though it operates similarly to an e-wallet, users cannot reverse casino transactions and cash out the same way they deposited.
CUSTOMER SUPPORT
Apple Pay Support on the official Apple.com website contains loads of info on how to set up the payment service on your iPhone, iPad, Apple Watch, or Mac, as well as how to add cards to your wallet, change your default card, update your information or remove a card. If you have a question that hasn't been answered yet, you can ask the members of the Apple Support Community right there on the site.
Why Use Apple Pay
Apple Pay is a logical choice for people who own an Apple device, as well as people who like to play on the go and hate going through lengthy registrations, logins, verifications and tiresome bureaucracy. With Apple Pay, one can avoid sharing personal and financial details. Apple's Touch ID is used for authenticating the user's identity, to confirm the payment and to secure the entire process which is quick and harmless. Furthermore, online casinos that accept PayPal will not charge you any fees and your deposits will be instantly available. The service is compatible with major credit and debit cards, so you can easily recharge your balance.
Pros and Cons
A single payment method which allows a large variety of cards

Developed by tech giant Apple Inc.

Eliminates the need to share sensitive details

Each deposit is protected by Apple's Touch ID or Face ID
Not currently a valid withdrawal alternative

The number of casinos that accept this method is limited

Works exclusively with Apple devices