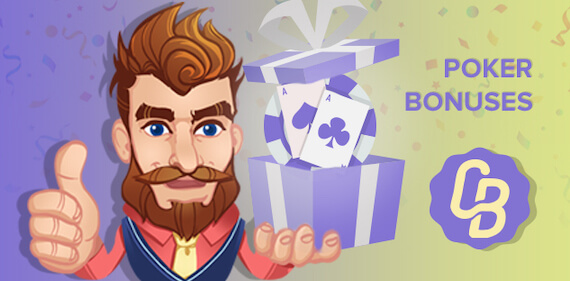 When deciding where to play, each player needs a reminder to remember several important things. For one, a player should always look for the best bonuses that allows him or her to maximize the first deposit and receive some real money to play online poker with, before signing up to any casino. It's not a bad idea to compare the best online poker sites to find the type of bonus that's best for you.
Last, but certainly not least, reading through the wagering requirements in the online poker site's T&Cs section is a must. You have to see how easy it is to withdraw your winnings and what is the most convenient way to use a bonus across poker tables. So many things to think about, right?
Well, we've taken some of the burden of your shoulders by already assembling a list of the best online casinos for poker players. Instead of taking on the entire internet, start from here and you'll be showing off your poker skills and claiming online poker bonuses in no time.
GOING AFTER THE RIGHT POKER BONUSES AT ONLINE CASINOS
Casino bonuses are available in abundance. But for whom? From the online poker players' perspective, the choice is not as plentiful as it is for most slot players. However, it is by no means unsatisfactory. For active, experienced poker players, it is no longer a matter of getting a bonus; rather, it is a matter of how big and lucrative it is.
To get the best bonus value, you need to rate a couple of different aspects of the offer you're presented with. In the case of a welcome bonus, some sites will offer 50%, others 100% match. Obviously, the higher the percentage, the better – so it should be the first thing you consider.
Nevertheless, it is not only about that. The maximum limit of the bonus you could get is also crucial. It is common for higher-percentage bonuses to be limited to smaller maximum amounts. Finally, you should always check the playthrough requirements of each bonus, along with the wager contribution percentage. Even the best online casinos will consider only 10%-20% of poker-related bets in the process of bonus liberation.