About MuchBetter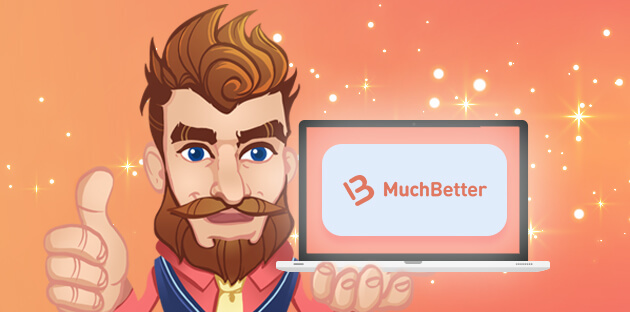 Looking to meet the needs of online casino operators and players in the best possible way, MIR Limited UK Ltd, an FCA-licensed and regulated e-money issuer, has recently launched a new iGaming payment app.
It's available on both Android and iOS mobile devices, enabling effortless online, offline and contactless payments with funds transferred and received in real-time. The simple registration process allows users to set up an account in less than a minute and immediately start benefiting from instant money transfers, competitive exchange rates, and advanced security features.
MuchBetter clients can also apply for a Prepaid MasterCard which is free to get and own, meaning there are no monthly or yearly fees, and which is made safe with a dynamic security code. This Muchbetter card will largely facilitate your casino experience.
How to Make Deposits and Withdrawals with MuchBetter
To open a MuchBetter account, one needs to download the app from Apple or Google app store. Once it has been installed, the user will be guided through a simple registration process.
You'll be asked to provide name and address, email and mobile phone number (which will serve as your MuchBetter account number), and set a 4-digit passcode. The provider will also ask that you send an electronic copy of your ID or passport for verification purposes. Basic services will be available even before you do the latter, but validation of client's identity is prerequisite in order to enable functionalities such as sending money to other MuchBetter accounts, applying for a MasterCard, and making Muchbetter casino withdrawals.
The account can be funded in a number of different ways, including credit/debit cards and bank transfer. As options depend on one's country of residence, the best way to find those available at yours is to open the app and click "top-up" button.
When making a MuchBetter casino deposit, you'll be asked to supply mobile phone number which is also your MuchBetter account number. Having done that, payment service provider will authorise the payment, ask for your confirmation and instantly transfer the funds.
Fees & Timeframes
If you've yet to get ID-verified, MuchBetter will set a limit of €2,500 maximum loading and spending. Having gone through the verification process, limits will increase. How high, depends on chosen funding options and frequency, as well as whether you choose to spend it through the card or wearable such as key fob.
Using bank transfer to pay money into a MuchBetter account is free-of-charge, while funding it via credit/debit cards, Sofort of Giropay incurs fees that range from 1.4% to 1.65%. Use Cash-to-Code and you'll be charged 5.5%. Payments made to a merchant are free, and same goes for withdrawals by bank transfer. The provider uses MasterCard currency conversion rate (an exchange rate set by MasterCard to convert currencies for cross-border purchases and ATM transactions) to which they add 0.99% fee. You'll find their conversion rates to be some of the best around and up to 80 % lower than in the bank.
With a MuchBetter account, users can send money to any mobile number in Europe. Request is processed instantly, and the recipient will receive a notification and get credited simultaneously.
CUSTOMER SUPPORT
If FAQ list featured on MuchBetter website fails to answer any of your questions, you can reach out to Customer Contact Centre which is open 24 hours a day and 7 days a week. All contact details can be found on the website as well as the back of your MuchBetter Card.
Why Use MuchBetter
Let's recap: MuchBetter payment method offers super-fast registration process, simplicity of use, instant money transfers done via mobile phones, competitive exchange rates and top-notch security measures.
The question should really be why not use it! MuchBetter Card will be accepted at millions of MasterCard locations around the world, and with the help of the app, it can be frozen and unfrozen instantly. The 3-digit number on the back, generated separately for each purchase, prevents any unauthorised party from using your card even if they somehow manage to lay their hands on it.
For every transaction, an instant notification will be sent to your phone. Another piece of innovation comes in the form of MuchBetter key fob which enables contactless payments. Stick it on your keychain and feel free to go shopping without a wallet or your phone!
Pros and Cons
App-based electronic wallet

Simple to use and extremely secure

Lowest eWallet fees

Available in more than 150 countries and over 120 merchant sites

Can be used for withdrawals as well as deposits
MuchBetter App is only available on mobile devices