About CashtoCode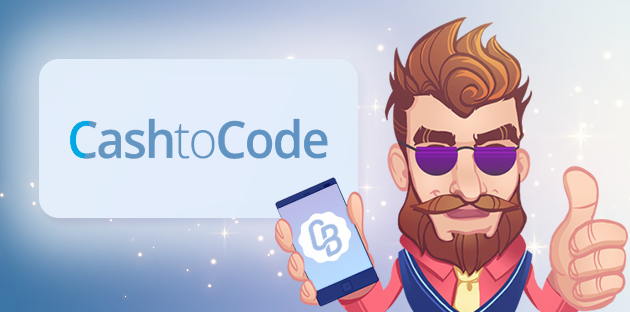 Funanga Limited is the company behind CashtoCode, a Berlin-based company founded in 2013 by a team of payment industry professionals. Their vision was to revolutionize cash payments and they materialized it through the CashtoCode payment API service, which focuses on speed and simplicity for everyone involved.
Unlike most modern payment methods that rely completely on the virtual world, CashtoCode does not dismiss real-world retail locations. Its users can make use of more than 100,000 retail locations to make a cash payment for their online purchase – or, in this case, online casino deposit.
To be able to use CashtoCode, a person doesn't even need to have a bank account or a credit card. Instead, one can use the most universal payment method in the world – cash. The company also has an office in London, UK. Its operations adhere to the laws of the Federal Republic of Germany, which gives us another reassurance on the security and safety levels of the service.
The system works in a rather straightforward way, simply requiring the user to select CashtoCode as a preferred method of payment online. No account registration is necessary and there is no need to share any banking data whatsoever. You can use CashtoCode to deposit up to 400€ in cash on selected websites.
How to Make Deposits and Withdrawals with CashtoCode
You may be used to having to go to the official website of the payment method and having to register a profile, but this is not the case with CashtoCode. Once you decide to use CashtoCode for your online casino deposit, you go straight to the casino. Pick a casino website that accepts CashtoCode payments and become a member.
Go to the cashier page and select CashtoCode as your deposit method. You will do this by clicking on the CashtoCode icon/logo. The deposit process will initiate and you will fill in some info in a separate window, like the amount you want to deposit on your casino balance. You will be redirected to the CashtoCode website where you will be able to use the store locator to locate the nearest retailer. This is where you must go to finalise your deposit. At this point, you will receive an automatically generate barcode which carries the info about your deposit.
At the store, give the barcode printed out or on your mobile device to the store staff to scan. You will then pay the indicated amount and be given a receipt for your payment. The money will be immediately credited to your online casino account. While it may seem that it takes time to complete this action, considering the fact that you need to take a trip to the nearest CashtoCode retail location, the process has a shortcut – simply log into the casino through a mobile device once you are physically present at the store and complete the deposit in less than a minute.
WILL I BE ABLE TO WITHDRAW?
Unfortunately, you cannot use CashtoCode for withdrawals. It is not possible, as the service works as a virtual voucher and does not store your money for you online. To make a withdrawal from the online casino you joined, you would have to look for an alternative payment method. Will this method be a traditional one or something like an e-wallet, it is totally up to you.
Fees & Timeframes
Transactions conducted with CashtoCode do not carry any fees. Furthermore, you don't have to worry about any maintenance fees or annual fees, or dormant account fees. You are in no way obligated to use CashtoCode multiple times.
You can use a voucher once or as many times as you want, without having to pay any extra charges. The moment you pay for the voucher at the nearest store, you will be able to see the funds credited to your gambling accounts, so waiting time is basically eliminated.
CUSTOMER SUPPORT
The CashtoCode website is an excellent source of information about the service, but if there is a concrete, more detailed issue you would like to present to a customer representative, you can do so by phoning them or writing them an email. Phone support is available Monday through Sunday, 06h – 22h and there are separate lines offered for German and Austrian users. Alternatively, you can write to [email protected] and also subscribe to the bonus newsletter which will inform you of the current casino promos.
Why Use CashtoCode
CashtoCode is a way of making fast and safe deposits to an online casino account. By doing this, you will preserve your anonymity and eliminate the risk of sharing your banking information online. By limiting the payments to 400€ in cash, the service allows you to maintain control over your spending and develop responsible gambling habits. The system also makes good use of mobile devices, so you can also use it as a mobile banking method, even more so if you go past a convenient CashtoCode outlet on your daily commute, for example.
Pros and Cons
Instant deposits

No fees involved

Helps players stay anonymous

No sharing of banking or credit card details

Offers control over spending
Europe-centered, not available in many countries

Withdrawals are not possible

Users must go to a physical location to make a transfer