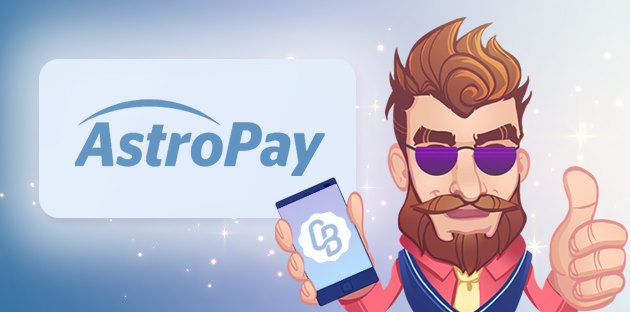 As we have already mentioned, AstroPay is a virtual prepaid card. The company behind it AstroPay LLP Group was established back in 2009 and its headquarters are in London, United Kingdom. Today, their product is one of the fastest growing banking methods in Latin America. Its popularity owes to the fact that not many online payment options are available to Latin American citizens. It particularly applies to online gambling.
Those gamblers who are not willing to use their credit or debit cards to make deposits to online casinos find Astropay quite useful. It is safe and secure and allows you to fund your casino accounts without revealing your personal and financial details. Other advantages of using AstroPay will be listed later in the text.
Virtual cards are used in the same way as debit or credit cards, except that the users will not be able to re-fund their AstroPay cards. Another important difference is that there is a limit to the amount of money that can be used via AstroPay card. This is ideal for all those who are concerned about their online safety since it reduces the risk of one's stealing personal data to the minimum.
Even though plenty of online gamblers have grown accustomed to using e-wallets as their go-to depositing tools, the advantages of AstroPay are known to have changed a lot of minds, and thousands of users are switching to virtual channels. The overall control and the security that virtual cards provide to their clients are unparalleled, especially when you add a wide market coverage into the mix.
To use AstroPay, one must first register at their official website or download the AstroPay app from Google Play or App Store. The next step is purchasing the AstroPay card, which can be paid in local currency. As soon as the transaction is processed, you will receive the email with the card data info. Once you are all set, you can proceed to your online casino cashier, and select AstroPay from the list of available methods. All the details that you enter will be coming straight from your virtual card, which means that your own baking info will remain a secret. To complete the transaction, the following details from the card must be submitted to the casino:
Card number
Security code
Expiration date
Deposit amount
Currency
The cards come in different denominations ($25-$500), which makes them suitable for a range of different payment services, from online shopping to paying bills. The validity period is 12 months, so there's no danger of the card expiring before you get the chance to spend your remaining balance.
WILL I BE ABLE TO WITHDRAW?
Even though some reviews would suggest otherwise, AstroPay card can be used for online casino withdrawals. However, since not all AstroPay casinos support this option, it would be wise to check with the casino support before registering an account.
The registration is completely free and the only thing that you'll actually be paying for is the AstroPay card itself. To get it, one will need to submit first and last name, ID document, DOB, and personal email address. The card can be paid via credit cards, direct debit, prepaid PIN, bank transfers… No maintenance fee will be applied and AstroPay card can be used minutes after being purchased, although it can take up to 3 working days in some cases.
CUSTOMER SUPPORT
If there are any issues with using your AstroPay cards (such as change of personal details on your account, registration issues, deposit errors, etc) customer support is available at [email protected].
Discretion and online security are the main perks of AstroPay, especially if you would like to keep your online activities to yourself. Another advantage is that this method cannot be easily abused. The damage control is exceptional and you can purchase the card that's the closest to the sum you're planning to spend on a single transfer.