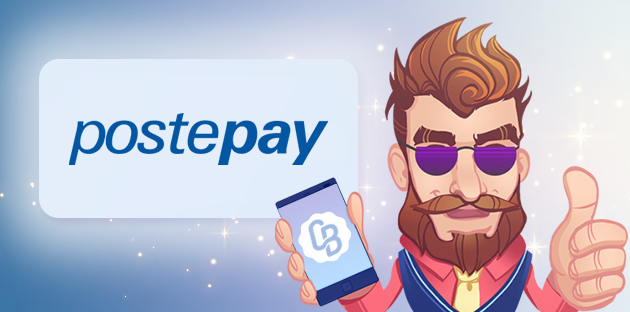 Postepay prepaid cards were developed by Poste Italiane that first introduced this payment method in 2003. The company is one of Italy's leading financial service providers that integrates a multi-channel distribution platform, a physical network of post offices across the country, and the latest digital infrastructure. In October 2018, Poste Italiane founded a subsidiary, PostePay SpA, a new company that integrates financial services and electronic money with PosteMobile telecommunication services. By the end of 2019, Poste Italiane had issued almost 30 million payment cards.
Postepay offers several prepaid cards co-branded with Visa and Mastercard: Postepay Standard, Postepay Connect, Postepay Evolution, Postepay Digital, and Postepay Business. These cards can be virtual or plastic, and each has its own specific benefits, limits, and costs. The cards need to be registered and activated online before use. Then you can top up the funds and make payments. Each user can get up to three different cards simultaneously.
Postepay Standard is a Visa prepaid card. The minimum amount you need to have on this card is €5, while the maximum is €3,000. The withdrawal from an ATM is limited to €250. Annually, users can top up to €50,000 across all Postepay cards on their name. You can recharge this card at any time at the post office, from the app, on the website, or other VISA affiliated shops.
Postepay Connect combines Postepay Evolution card and PosteMobile SIM services at a single cost of €70. It allows users to make payments, use the mobile app, manage mobile phone credit plans and internet services.
Postepay Evolution Mastercard has the IBAN code that allows clients to make different transactions, including wire transfers, paying bills, or P2P payments. The minimum top-up amount is €15, and the maximum per single transaction is €3,000 with a limit of 2 payments a day. The daily limit for withdrawals from Postamant or bank ATMs is €600, while the monthly maximum is €2,500.
Postepay Evolution Business card may be well-suited for high rollers as it has a transaction cap of up to €200,000. This is also a Mastercard-branded card.
Postepay Digital is a Mastercard card without IBAN. However, you can request the version with the IBAN and a physical card. To obtain the card, apply directly in the Postepay App. You can use Postepay Digital for all sorts of online payments, including P2P transactions or transferring funds from one Postepay card to another.
You can request your Postepay card at the post offices, at the official website, and Postepay App. You can download it from Google Play or App Store and use it to make real-time payments, refill the cards, receive payments, and more. To get your Postepay prepaid card at the post office, you only need to provide your photo ID and Italian tax identification number. You can also create an online account with the same requirements: your ID and tax identification number.
There are several ways to fund Postepay cards: at any post office paying in cash or with BancoPosta or Postepay card, at Postamat ATMs, from the website, application, and authorized retailers. The amount will be credited to your card in a matter of minutes.