LIST OF BEST RABCAT ONLINE CASINOS
Rabcat games are rigorously tested for fairness and randomness and meet the highest industry standards. Also, they are available in over 20 different world languages. Each title is designed in either HTML5 or Flash formats, so you will be able to play them on almost every type of device, regardless of its operating system, be it iOS or Android.
If you are looking for a massive library, Rabcat will not be able to meet this requirement, as its collection barely contains around 20 titles that you can find at some of the top casinos online. However, each and every one of them features spectacular graphics and impressive attention to detail. The brand is not interested in supporting a factory production of clone slots and uninventive quantity-booster products. They are all about quality, unique titles that offer memorable gameplay and good payouts.
RABCAT SLOTS RTP
None of the slots developed by Rabcat has a progressive jackpot reward, but the machines still offer a decent average RTP of 96.3% and great payout potential. While The Legend of Olympus RTP stands at 95.47%, you can play Dragon's Myth and enjoy a return percentage of 96.60%. The rates aren't sky high, but they make one feel comfortable nonetheless. Combined with plenty of different coin and stake settings, the games turn out to be user-friendly and lucrative when played wisely.
The Forsaken Kingdom is right there in the middle with an RTP of 96.3% and the Castle Builder 2 return ranges from 95.50% to 97.75%, depending on the level. You can rest assured that Rabcat's games will reward you nicely.

WHAT CASINO GAMES DO THEY PROVIDE?
A range of Rabcat products includes video slots, video poker and table games, created in HTML5 and Flash, featuring unique game designs and outstanding visuals, and easy to integrate with industry-leading software platforms such as Quickfire (Microgaming). Rabcat is yet another developer which puts quality before quantity, resulting in a small portfolio contributing to their image of a premium online casino games developer.
RABCAT FEATURED GAMES
Despite a boutique-sized portfolio, Rabcat has produced award-winning content. Legend of Olympus online slot was awarded the prize "Best Game of the Year" according to the Austrian Lottery in 2011. In 2013, Castle Builder slot was awarded the prize "Best Game of the Year" by the eGaming Review. More popular titles include Classic 243, a slot with 5 reels, 20 lines and flashy 80's neon colours, Robin of Sherwood, a slot with 243 pay ways inspired by the famous thief who stole from the rich and gave to the poor, as well as Moby Dick, Gnome Wood and Penguin Splash.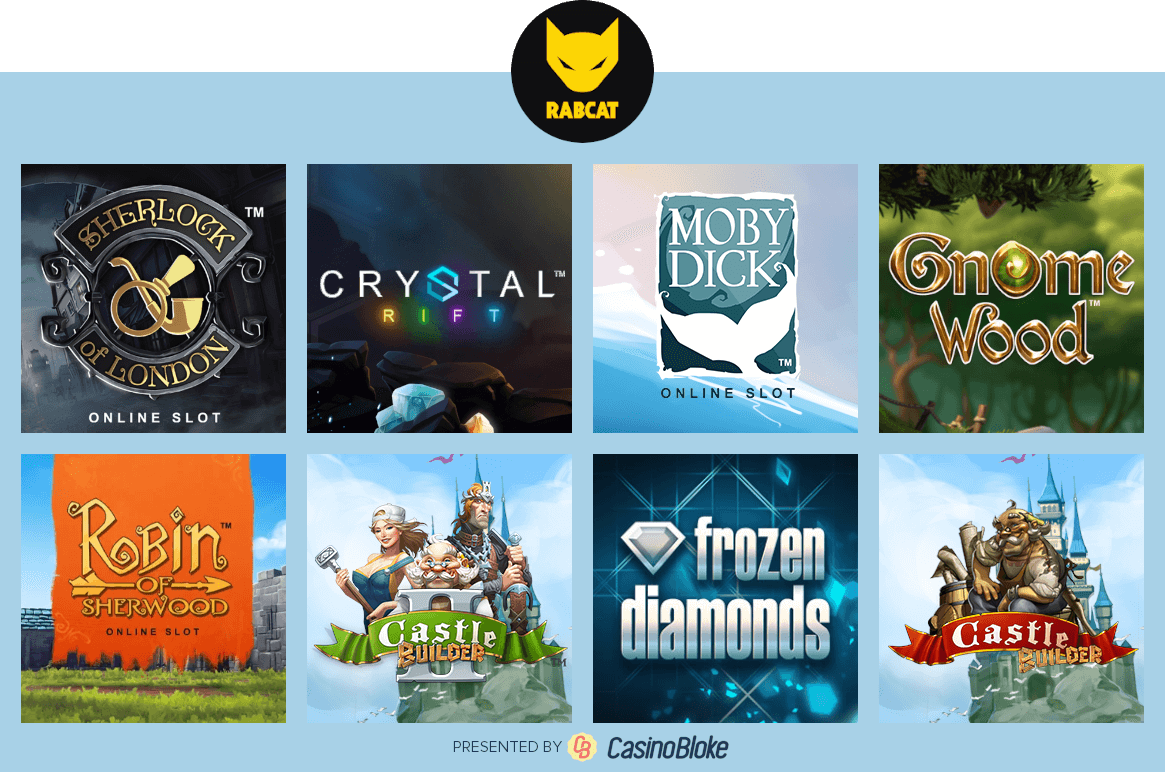 RABCAT TABLE GAMES
Though we know the developer has produced a couple of table games, due to the fact they're marketed under Microgaming brand and Rabcat themselves don't brag about it, there's not much more info Casino Bloke can share. For now. They are undoubtedly a slots-first software provider and will keep adding slot machines to their portfolio, which is something we can't say for blackjack, roulette or poker.
PROGRESSIVE JACKPOT GAMES FROM RABCAT
So far, Rabcat hasn't incorporated any progressive jackpot pots into its slots. They seem keener on making their products more alike video games and less like reel-spinning, coin-spitting machines. With time, they might add a jackpot pool just to spice things up, but we can't know for sure if this will ever happen. The company's approach which favours fun more than just making it about winning money tells us progressives are not welcome here.
OTHER RABCAT GAMES
Video Pokers are the only type of other casino games to be found in Rabcat's portfolio and they currently count less than a dozen. One which stands out is 3D Joker Wanted with a Wild West theme, featuring amazing graphics, free games and wild cards. Typically, you will find video poker games with that old-school design and no flavour. Rabcat is willing to change that and make video poker more visually appealing to new-generation players.
RABCAT LIVE DEALER GAMES
Nothing to report yet! Honestly, Rabcat doesn't seem like the type that would start building live casino studios and developing software for live dealer games. They are focused on video slots and 3D slots, with some side projects here and there. Taking on the live casino market would be quite a challenge. Rabcat, if you have any plans to compete with Evolution Gaming in the live casino industry, let us know.
WHAT ELSE?
RabCatis a specialist in the fields of 3D animation, cinematic promos and solutions based on HTML5 technology. RabCat Computer Graphics cooperates with giant companies such as Blizzard, Rockstar Games, Ubisoft, Disney Interactive and Microsoft Studios. The team has designed locations, characters and guns for Overwatch, a popular online shooter game by Blizzard (the same Blizzard that is behind World of Warcraft). The outfit is also engaged in the following projects: Farming Simulator 17, Forza Horizon 2, Castle Builder, CrackDown 2, Alone in the Dark, Grand Theft Auto: Vice City and Silent Hill: Origins, among others.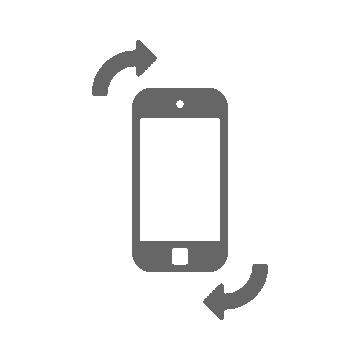 OUR VERDICT ON RABCAT
When a relatively small company (in terms of the number of products they've marketed), manages to build such a fan base, you can be sure they're going places. Rabcat does not compromise on quality while very few competitor companies have a similar attitude. Casino Bloke will closely follow to be the first to know when this promising developer graces us with yet another wonderful casino game.
Level-based slots

Unrivalled responsiveness

Use of advanced 3D technology and features like free spins, multipliers, sticky symbols and risk mini-games

Has deals with Yggdrasil, Microgaming and Quickfire
Barely any focus on table and video poker verticals

Small gambling portfolio

RABCAT FAQs
Most Common Questions About Rabcat Games & Casinos