Game Details
Provider: Microgaming
Reels: 5
Paylines: 15
Coin Value: £0.01 – £2
Maximum Bet: £30
RTP: 95.50% – 97.75%.
Maximum Payout: 750 coins
Wild: Yes
Scatter: Yes
Bonus Game: Yes
Free Spins: Yes
Multiplier: No
Mobile: Yes
Castle Builder II Slot Review
If you ever had the chance to play Microgaming's Castle Builder, then we are positive that you will love the sequel of the famous original! Once again, gamers will have to master the skills of building castles, help princesses find their homes and their loved princes charming. Castle Builder II is not a usual slot and it requires time, since there are fifteen kingdoms to visit, lots of castles to build, four Cup Challenges to complete and three avatars to try out. The 2017 release is a five-reel, three row slot with 15 adjustable paylines. Visually impressive, the Microgaming product offers plenty of winning opportunities to all punters who decide to roam the kingdoms and built castles from the finest materials.
Game Symbols
In the very beginning, you will meet three different avatars you can use, Sam, Mandy and Igor, which will also function as Wild symbols. Remember that Igor can be picked once you complete the game once with either Sam or Mandy, and Igor is the only full-reel Wild. So, let's start with the basics and learn about the material you will be using to build the castles. Unlike in other slot reviews, we will start from the low-value symbols, since they are used for building, like Wood, Brick, Granite and Iron. Even though they pay less, they will be very handy in completing the challenges and getting extra cash prizes when a particular castle is built.  Ring, Gold Brick, Treasure Chest and the Crown serve as high-paying symbols. There is also the Free Spins Scatter that triggers the Free Spins feature.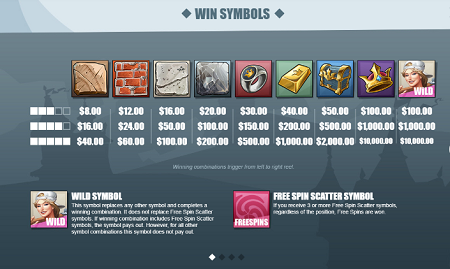 Gameplay
Once you have chosen your avatar, it is time to pick the kingdom where you will build your first castle. As you land winning combinations consisting of Wood, Brick, Granite and Metal, you will also start gathering building materials for the castle. Fill out the pallet with material and form a Building Block to start building the castle, but more about that later. The 2017 release pays left to right, starting from the leftmost reel, with three of as kind being the minimum for winning payouts. Fifteen adjustable paylines are on the offer. Coin value goes from £0.01 to £2, meaning that the minimum gamers can wager is $0.15, provided that they decide to play with all 15 paylines. The maximum possible bet is $30. Once punters decide to take some rest from the building, they can let the machine do all the hard work by activating a desired number of automatic spins.
Special Features
We will first talk about the Free Spins feature. Land three, four or five Free Spins Scatters on the reels and win 10, 15 or 20 freebies. Apart from winning the usual prizes, the feature is there to help you gather more building material for your castles.
As you have probably noticed yourselves so far, the main stress of the game is on castle building! One pallet needs at least six construction materials in order to create a Building Block. Depending on your current level, you will need 6-15 Building Blocks to complete one castle. Once you complete your first castle, you will help the princess pick one of the 2-5 suiters that want to marry her and in return she will reward you with an instant Wedding Bonus cash reward. Each suiter is worth differently, so pick wisely. There are fifteen different kingdoms on the map, all of them need lots of castles, so you will have plenty of work to do, and you will need lots of money for gathering materials.
The Castle Builder II offers 4 Cup Challenges, Bronze, Silver, Gold and Diamond.  When you pass the Silver Cup, you will get the Cycle Premium, an extra bonus value all players will get for completing Cup Challenges. Also, after you complete the Bronze Cup, the Free Building Mode is triggered, meaning that you can freely visit available kingdoms and build castles wherever you want. Remember that you need to compete at least 9 kingdoms before you finish a certain Cup Challenge.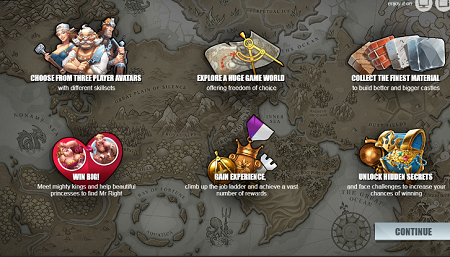 Payouts
Castle Builder II really offers plenty of opportunities for rewarding payouts. Apart from regular payouts gathered from formed winning combinations, gamers will be able to win plenty once they start producing castles. As they level-up their avatars and advance to higher Cup Challenges, the wins will only get bigger. The Wedding Bonus proved to be very rewarding, but you have to pick the best suiter wisely. Also the Cycle Premium is usually pretty generous. Depending on the level, the RTP can go from 95.5% to 97.75%.
Castle Builder II on Mobile
You probably thought that it is practically impossible to build castles on your mobile device. Well, thanks to the good people of Microgaming, now you can form Building Blocks and create a beautiful castle using nothing but your fingertips, since the 2017 release is available across all devices. Play Castle Builder II from the comforts of your homes, or on the go, since the quality of the slot is literally the same on any device.
Pros
+ Excellent visuals
+ Plenty of additional features
+ Lots of opportunities for rewarding payouts
Cons
– It takes a while to fully understand the rules
– Not intended for players looking for a quick win
Verdict
We dare to say that Castle Builder II is way more exciting than its famous predecessor, since it offers plenty more in terms of features. The 2017 release boasts crisp graphics and a fitting soundtrack, while the additional features incorporated will keep you chained for your seats. Be aware, though, that it could suck your balance dry if you don't pay attention, since the construction materials cost money, while the winnings will not be as high as you hope in some cases. Gamers looking for quick cash should avoid the Microgaming product, since it will take you time and money before you start winning big.