About Jeton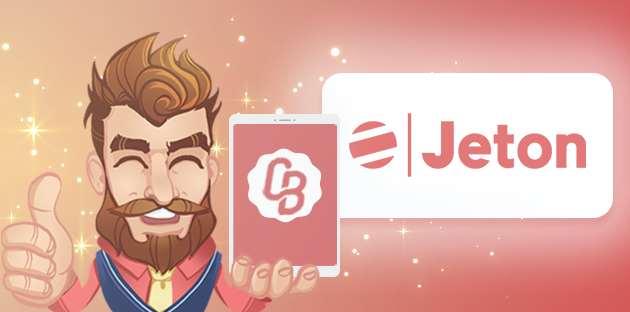 Jeton was founded in 2016, as a collaborative effort by a group of fintech experts, known as Urus London Ltd. They created the platform in order to present British (and later international) users with an easy way to fund their accounts and thereby keep their personal information out of the sight of various websites.
The project was an almost-instant success, as people were delighted to have a homegrown eWallet with perks that PayPal, Skrill, Neteller, and other prominent names simply don't offer. So, what are exactly those advantages that led Jeton to amass more than 500,000 unique users?
First of all, we would like to touch upon the fact that you can use as many as 70 different payment methods to fund your Jeton account. This is an advantage that has caused the company to become available in 197 different countries and regions. Not many eWallets are willing to accommodate their offers to those who prefer niche payment options.
Jeton actively implements several security/fairness-related policies, including the Anti-Money Launder Policy (AML), the Counter-Terrorist Financing Policy (CFT), and KYC. this is definitely impressive for such a 'young' brand. Even their customer support is stellar as a whole, with the basis being provided by ZenDesk, one of the leaders in the industry.
One thing that irked us significantly was the fact that Jeton imposes fees on inter-platform transfers, which is a big drawback in today's fintech industry. We understand that it's difficult for a young brand to get funding, but bank-imposed fees are enough of a headache already.
Also, some players might find that depositing money at Jeton online casinos is a hassle, as you will need to provide scans of personal documents in order to verify your Jeton Wallet account. Our opinion is that the security-related benefits far outweigh the nuisance that is this extra step, but some people just prefer speed in such cases.
How to Make Deposits and Withdrawals with Jeton
Just like PayPal, Jeton emphasizes ease of use, so you shouldn't expect a complicated process. Once you've picked an online casino, go to your Jeton Wallet account and fund it using one of the several available options. One of these deposit options is the Jeton voucher, which you don't have to use all at once. Think of it as a prepaid card that you can only use several times before discarding it.
Now, go to your casino's banking section, select Jeton as the deposit option, and enter the amount. All that is left to do is to follow the steps at Jeton.com and you're all set. The transfer goes through instantly, so there's no need to waste time.
Withdrawals with Jeton are even easier than deposits, to be frank. However, there is a twist. Jeton withdrawals are only available to players that have previously used Jeton as a means of depositing money. Just pick it as an option, select the amount and you should see a deposit to your Jeton Wallet account in a second or two.
Keep in mind that some online casinos require you to provide additional proof of identity when making a deposit, so be prepared for an extra step or two. It's not Jeton's fault, though.
WILL I BE ABLE TO WITHDRAW?
Yes, absolutely. Like we've said, Jeton withdrawals are some of the easiest you'll encounter. The only additional task is to send a scanned copy of your ID/driver's license (if you want to verify your account), but that's become an industry standard by the time we're writing this.
Fees & Timeframes
Here comes the disappointing part once again – Jeton is one of the only eWallet companies that impose fees on some deposits and withdrawals. This is a big drawback, one that we believe has to be solved ASAP. It's simply annoying and bothersome to trouble casino aficionados with two sets of fees, one imposed by Jeton and, the other by the bank.
And to make things even crazier – these fees vary depending on the amount that's deposited/withdrawn, as well as the payment method you're using. Not only that, but different currencies also require different amounts to be paid.
It's no secret that newer companies are under more pressure to make a name for themselves, but obtaining funds this way is not the way to conduct business in any industry, let alone a high-turnover one like iGaming.
One thing we're also not fond of is the somewhat conservative threshold for deposits. Most payment methods used to fund your Jeton wallet don't exceed $10,000, with cryptos taking the cake at a whopping $250,000. It's obvious that they're encouraging users to stay anonymous, as raising the limits for other funding methods requires a verified account. This is a somewhat
When it comes to waiting times – they're non-existent. Yes, it's surprising for one eWallet to have such contrasting takes on different aspects of their areas of influence, but we're always the ones to give praise when praise is due.
CUSTOMER SUPPORT
We just can't find anything negative to say about our experience with Jeton's agents. You can contact them using either email or live chat. Regardless of the means used, response times are lightning-fast and Jeton employees are well-trained and talkative. They quickly tackle even more complex issues, with cooperation between departments also being praiseworthy.
But frankly, you won't even have to contact them in about 80% of all possible situations. The FAQ page is simply too extensive and every aspect of Jeton Wallet is so cleverly covered that just a quick can be enough to find a solution. Impressive.
Why Use Jeton
Jeton provides an interesting blend of options. If you're a high-roller that likes going bonkers with your winnings, then using cryptos to fund your account is a great way to stay anonymous and competitive at the same time.
For other options, you have to verify your account, which is a nice layer of security for any eWallet to have. Of course, there is the obvious elephant in the room – the fees added on top of some deposits and withdrawals.
Is it a bad thing? Certainly. But, we're far from thinking that this is a deal-breaker. At the end of the day, you are getting things you can't really get with most eWallets. The ease of use will make your online casino experiences so smooth that you won't mind paying up to 2.50% in some cases.
When you add that smoothness and combine it with a great casino like Playamo, Genesis, or 7Bit, it's not that big of a deal, really.
We at Casino Bloke like to find the best and most financially feasible option for you, the player. However, free services aren't the only feasible thing when it comes to payment methods. Paying a little extra is an even better solution if you're willing to take the risk. And in Jeton's case, the risk is, paradoxically, risk-averse.
Pros and Cons
Instant deposits and withdrawals

The list of Jeton casinos keeps growing

Highly secure

Great customer service and fast response times

Very intuitive site design
Fees added on top of some deposits and withdrawals

Android app has a few bugs