About Zimpler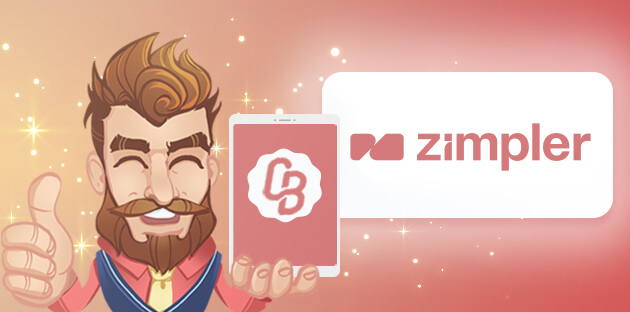 Zimpler has been around for a while now under the name of PugglePay. However, the company went through some changes and finally a re-launch in 2016 under the name Zimpler. With offices now in Stockholm and Gothenburg, Zimpler is another certified Swedish brand that operates in the online gambling market, quite successfully if we may add.
Officially, Zimpler is a mobile payment solution. Technically, it works more like a third-party online depositing solution. It's not like e-wallets, though, because Zimpler assumes the role of an intermediary between a preferred payment method and a supported online or mobile casino, using SMS verification to secure the transaction. Zimlper processing is done under the supervision of the Swedish Financial Services Authority, which also supervises all the banks in this Scandinavian country.
RELIABLE AND MOBILE-FRIENDLY
Zimpler is a top choice for Swedes, Finnish folk and UK gamblers who prefer to place wagers on the move. Through Zimpler they can all do it painlessly and quickly, without having to waste time on passwords or transfers that take up several steps to complete. Thanks to SMS verification codes, the transfers are untraceable, safe and secure from anyone thinking about committing a virtual crime. As long as you don't mind small fees and you choose a trusted casino that supports Zimpler deposits and withdrawals you can benefit a lot from said payment method.
How to Make Deposits and Withdrawals with Zimpler
Luckily for any modern, 'on-the-go' type of player, Zimpler is extremely easy to use. To get started, you only need to access the website on your phone, and manage the signing up through your mobile phone number. No other information is needed; no address entry, name or any other personal data. After you type in your number, you'll receive a unique SMS verification code. Type that in as well when asked and your Zimpler account has been created, ready to manage your next payment on a chosen Zimpler casino site.
If you want Zimpler to act as your middleman, you'll have several options at your disposal when it comes to funding the transaction. These will depend on the region in which you reside as well as on the gaming site itself. Most of the time you'll have a choice of a credit/debit card or have the amount billed to you afterwards. What you need to remember is that every time you sign into Zimpler, a new verification code will arrive to your device via text message so that you can verify and protect each individual payment.
Deposits are as easy as ABC, but withdrawals can sometimes be problematic if you come across a casino site that accepts Zimpler but restricts cashing out with the same method. Depending on the area you're gambling from and the executive method you've chosen, Zimpler may or may not be allowed to manage the transaction out of the casino as a third party.
Fees & Timeframes
Zimpler offers a straightforward service with not too many steps and obstacles. When you make a casino deposit using Zimpler the money will immediately be available on your bankroll. All you need to handle is typing in your mobile phone number and verifying the payment with an SMS code.
The amount will instantly be deducted from your funds, and if you want to pay later and receive a bill, you'll have 14 days to settle your debt after you do. Any delays in payment will result in additional fees. As for withdrawals, there isn't a pattern we can point out; it all depends on the circumstances under which you're allowed to cash out through Zimpler.
CUSTOMER SUPPORT
One of the rare deposit methods that provide users with proprietary customer support, Zimpler employs a dedicated team of experts to guide you through any aspect of using Zimpler for online casino funding. Support is available in three languages including English, Suomi (Finnish) and Swedish.  Local telephone lines are +46 (0) 775-161 740 (for SWE customers) and +358 (0) 9-424 50 774 (for FIN customers). Opening hours are on weekdays from 13 to 17 (CET).
Why Use Zimpler
There are several advantages to Zimpler, starting with the obvious fact that it provides a clean and fast alternative for funding your online or mobile casino account without disclosing any personal information. Zimpler users aren't required to reveal their identity, bank account details or anything of the sort.
Signing in is a quick formality and you don't have to remember any usernames or passwords. New code arrives to your smartphone every time you log in and wish to make a payment, and the overall flow of services is smooth as silk.
Pros and Cons
Mobile wallet stores all payment details in one place

No pre-registration needed

No PINs/passwords to memorize

Allows users to limit their spending budget
Offered only to residents of Sweden, Finland, Germany and UK

Fee applied for bank payments

Not always available for withdrawals