Betsoft to Showcase Revolutionary MaxQuest Slot at iGB Live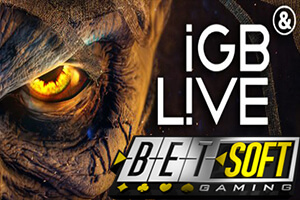 The Malta-based 3D slot developer Betsoft Gaming will showcase the next generation of their online gaming solutions at iGB Live. The event that will take place in Amsterdam between 17 and 20 July will gather delegates from more than 100 countries and the selected ones will have a chance to see an exclusive preview of the MaxQuest slot two months before its official launch.
Besides the revolutionary slot game, Betsoft will showcase the new cross-game innovations like the Trail System and VAULT solution as well as the latest games added to their Slots3TM portfolio including The Golden Owl of Athena and Dragon Kings.
MaxQuest Slot Revolution
According to the company's press release, MaxQuest is a genre-redefining new game and the selected delegates will experience an entirely new take on the principles of RNG gaming behind closed doors. First revealed at G2E Asia in May this year, MaxQuest is a multi-player game that invites gamblers to explore an ancient Egyptian tomb "facing fearsome foes and finding fabulous treasure". While encountering enemies and finding collectibles, players will be able to work together to make a better score.
Thanks to the collection of items, achievements and a leaderboard, MaxQuest looks more like console gaming RPGs than slot machines we know today. According to Betsoft, by bringing the world of social games to their players, they want to make gameplay last beyond just a single win and guarantee players come back for more.
About iGB Live
iGB Live is a three-brand event formed by the iGaming Super Show, EiG and the Amsterdam Affiliate Conference. This is the first time iGB Live exposition and conference take place and they will cover the full spectrum of the gaming business with a focus on both established and emerging markets.
From 17 to 20 July, participants will have an opportunity to learn more about new gaming experiences like Virtual Reality and more.