Several days ago, an unsatisfied customer of Bob Casino filed an extensive report on AskGamblers.com about an unfair treatment he received from Bob Casino representatives and casino management after he had won a large amount of money on Play'n GO's video slot Reactoonz.
The player, whose username on AskGamblers is RP297, apparently has a staggering amount of €941,287 euros stuck on the Bob Casino website and fears he may never get paid.
Bob Casino went live sometime mid-2017 and it has been running ever since on a Curacao gaming license, under the ownership of Direx N.V. The website has a Rastafarian theme and a smiling host Bob; it is a mobile-compatible casino with an instant play platform.
The site hosts hundreds of games made by the likes of Betsoft, NetEnt, NextGen, Thunderkick, Endorfina and Ezugi, among others. The accent of the brand is in the fun part of gambling, but in the case of our anonymous bettor RP297 the fun turned into a nightmare since he now officially can't access his account and faces uncertainty when it comes to his impressive casino balance at Bob.
A Remarkable Story
According to the story RP297 unveiled in his complaint, he started playing at Bob Casino in February 2018 after having read some good comments about the venue. As a regular player at other gaming sites, he wasn't a stranger to large stakes. Hitting it off at Bob with Reactoonz placing max bets of 80€, the complainer built a bankroll worth 100K+ and got a VIP manager from Bob Casino. He was now facing increased stakes at Reactoonz (400€) and higher withdrawal limits (100K per month). When the players balance become close to a million the problems started.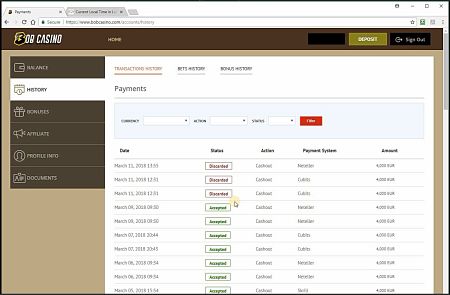 He did get paid regularly up to that point, as much as 114,000 euros to be exact,  but as soon as he reduced his playing activities for a few days he received a warning from his VIP manager that his privileged withdrawal limits will be reduced, which eventually happened within days. As he states, the bettor got a call from the casino soon after and was offered 100,000 euros instantly and a car if he gave up his 1 million balance. If he didn't accept the offer they would investigate his winnings and most likely find something wrong, which means he might lose it all.
RP297 claims he is an honest, careful player who does it all by the book and simply can't believe he got blackmailed like that. He admits that Bob Casino even suggested him to use VPN software to get access to games from sensitive providers, a hack which he didn't accept. There was no deal, so his account was 'blocked for investigation' and there is no date set for this supposed investigation to end. The 'investigation' makes no sense, according to the complainer, because they've already investigated his recent win of 200K and found nothing suspicious.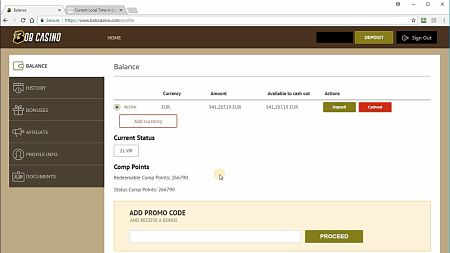 The player is angry, concerned and disappointed. Who wouldn't be? As the complaint remains open for another few dozen hours on AskGamblers, RP297 continues to post evidence on Bob Casino VIP manager ignoring his questions and screenshots that serve as the record to his ultra-big win of 333,450 euros on Reactoonz. He claims he has over a hundred screenshots of live chat sessions and emails, audio and video recordings to prove the poor treatment he's been getting from Bob who is supposed to be a nice, funny guy. Go figure.
Can AskGamblers Help?
RP297 went public on AskGamblers hoping for a fair resolution to this tough situation, but if he doesn't get paid the conventional way he is prepared to send all the evidence along with his complaint to higher instances and involve Play'n GO as well. That would make this dispute a high profile case. RP297 left a rather unflattering review of Bob Casino on AskGamblers.com giving the venue a one star rating and writing 'Impossible to like anything when a casino confiscates your money without any valid reason.' You can actually feel the bitterness in your mouth as you read those words. 
There have been 5 other complaints about Bob Casino on the same platform and they've all been resolved within the designated timeframe. Hopefully, RP297 will get his piece of mind at the end of all this, otherwise, he promises not to give up because the money he won playing slots at Bob Casino isn't just his but also belongs to his family.
Let's get all the facts straight, and we'll leave you to draw your own conclusions about the matter:
RP297 has €941,287 on his Bob Casino account which has been blocked and investigated
The problem arises after he wins €333,450 on Reactoonz and gets close to the 1 million mark on his active balance
Until that point the casino had paid him around €114,000 in wins
Supposedly, he was offered €100,000 plus a car for free if he renounced his 1 million account balance
The casino maintains safe distance and doesn't provide the information about when the investigation might end
RP297 is still trying to get answers to the following questions: why is his account blocked and not limited due to the 'investigation'; why was he intimidated with a ridiculous offer of €100,000 and a car when he is entitled to ten times more; why is his VIP manager ignoring him and the management isn't answering his queries; why is there any need for an investigation when his recent win of 200K was investigated and his track record was deemed clean.
Bob, it's your move!