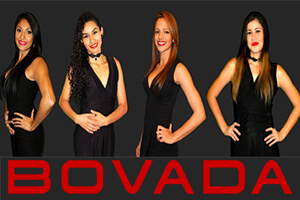 One of the most reputable online casinos catering to the US market Bovada has now added a premium Live Casino to their impressive portfolio, giving their new and existing customers a chance to enjoy Live Blackjack, Live Baccarat, Live Roulette and Live Super 6 games, hosted by real-life dealers.
With the live tables powered by an in-house software, Bovada will provide you with an immersive gaming experience which is closest to the one you can get at a land-based casino in Las Vegas. The tables are available 24/7, allowing you to join them anytime, day or night.
Once you take a seat at any of the tables, you will be greeted by your name by the live dealer operating the table. You can also chat with the dealers, which guarantees an interactive casino experience.
Four Live Dealer Games on Offer
As we have previously mentioned, Bovada offers Live Dealer Roulette, with both American and European Roulette tables available. Regardless of the version you choose, the dealer will announce when it's time to place your bets, and you are supposed to drag and drop casino chips onto your desired numbers. A timer on the screen will let you know how much time you have to place your bets. Players can clear all bets currently on the layout or use the Rebet button to place the same wagers. The table also offers Auto Rebet feature that will place the same bets for you until you push the Clear Bets button.
When it comes to Blackjack, Bovada offers Classic Blackjack played with six decks. The dealer hits soft 17 hands and a Blackjack pays 3:2. Players can also place two side bets, Pairs delivering 11:1 payout and Rummy paying 9:1. The Classic Blackjack table accepts up to seven people and each player can occupy up to three seats. A minimum bet one can place is $10 and the Seat Open icon indicates that a table is open and can be joined. If there are no free seats, players can place bets on other players' hands by using the Back Betting option. Just select your chip and click on top of another player's Main Bet position.
Live Dealer Baccarat tables accept bets starting from $5. The game uses eight decks and you can place your bet on Banker, Player or Tie with the Banker paying 1:1 minus a 5% commission, the Player paying 1:1 and the Tie paying 8:1. The Dragon Bonus side bet pays out when you get a score of 8 or 9, so-called a natural, or when you win by 4 or more points. This bet pays between 1:1 and 30:1.
Last but not least, Super 6 is a Baccarat variant played with a six-deck shoe. The biggest difference is in side bets players can place. The main bets are Banker also known as Banco, Player also called Punto and the Tie Bet referred to as Egalite. Besides the Dragon Bonus side bet, players can also play the Super 6 side bet and predict that the Banker will win with a score of 6. This side bet pays 12:1. Other side bets include wagers on three different types of pairs, Banker, Player or Either Pair. The first two pay 11:1 while the Either Pair side bet pays 5:1.
Meet the Dealers
Bovada's live dealers are well-trained and highly professional to provide you with an enjoyable gaming experience. Nicole comes from San Jose, Costa Rica, and her favourite game is Blackjack. On the Bovada website, you can find that her hobbies are baking desserts and experimenting with makeup. Sofia is from Heredia, Costa Rica, and her favourite casino game is Roulette. In free time, Sofia enjoys listening to Coldplay's music and Chris Martin is her favourite singer. Another dealer comes from San Jose, Costa Rica. Her name is Natalia and she will greet you at Baccarat tables. Besides Baccarat, Natalia loves to exercise and has been a competitive cheerleader taking part in the USA World Championship. Finally, Molly will take care of you once you join a Super 6 table. Personally, she likes Blackjack while some of her favourite movies are Longest Yard with Adam Sandler, Shrek 1-2-3, Ninja Turtles and Harry Potter.
If you send a message to the dealers, they will talk back to you through the camera. Players are also allowed to tip the dealers by placing a chip on the tipping slot. Besides chatting with the live dealers, you can also interact with fellow players through the live chat feature. The action at live tables aisre recorded and streamed in real time so that you can watch it from different angles and enjoy your stay to the fullest.
Click here to visit Bovada and give Live Dealer games a try!