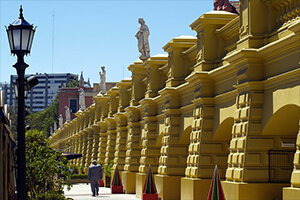 Online sports betting and gambling could be regulated in the autonomous city of Buenos Aires soon. According to the announcements, licensed operators could be offering their services at the end of 2020. Stay with us to learn more about the regulation of the online gambling market in the Argentinean autonomous district.
Unlimited Number of Operators
Last week, the Loteria de la Ciudad (LOTBA) revealed its plan to start vetting operators who want to offer online sports betting and casino services to Buenos Aires residents. The LOTBA, which is the regulator of the city of Buenos Aires, is set to authorise an unlimited number of operators. They will be allowed to offer all forms of online betting, including sports, virtual and non-sports, as well as other forms of entertainment such as slots, table games like Blackjack, Roulette, Punto Banco Baccarat and Poker and lottery games.
The operators who want to offer their services will have to become Online Gaming Agencies. Although there will be no tender, they will have to meet specific requirements. They include a $30,000 fee along with proof that they have been operating for two years. Also, then need to prove that their revenue is not less than $1.6 million per year, while their net worth must be at least $25 million.
A Guarantee of Compliance worth $2 million is also required. Yet, it will be reduced to $1 million after the final technical certification report is accredited. Licenses will be issued for a five-year term initially, and they can be extended for five more years. Online Gaming Agencies will also be obliged to pay a $100,000 annual license fee as well as a 10% tax on their revenue generated online. Besides, they must keep customer account balances a separate city bank account that will be monitored by LOTBA. The regulator has also included restrictions on advertising, responsible gambling and free-play games.
What About Online Gaming at National Level?
It has been almost a year since the media reported that the province of Buenos Aires had enacted a decree to legalise online gambling. The decree established a regulatory framework for all forms of online entertainment including sports betting, casino games, poker and betting on horse racing.
In Argentina, provinces are allowed to formulate their own laws addressing online gambling since 2006. Yet, until today, only a few of them have taken advantage of this opportunity. Since 2016, operating an unlicensed online casino or betting site has been deemed a federal crime which can be punished by up to six years in prison.
The regulation of the online gaming market was seen as an opportunity to provide funding for needed social programs as the country stood at the brink of economic crisis. However, the plans were put on hold after the changes in the provincial government's line-up took place. The announcements from the city of Buenos Aires, which functions autonomously from the province, and its gaming authority may mark the beginning of the market regulation at both the provincial and national level.