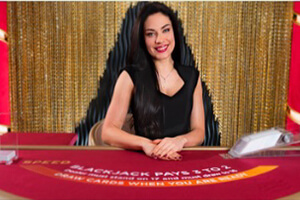 Evolution Gaming, one of the leading providers of live casino solutions, has announced the launch of Speed Blackjack. It is the latest addition to the Evolution's extensive portfolio of Live Blackjack tables designed to provide players with fast-paced gameplay by reducing waiting time. Stay with us to learn more about Speed Blackjack
Evolution Speed Blackjack Review
The latest live casino game in Evolution's portfolio uses the set of standard Blackjack rules and accepts up to 7 players at the same time. The only rule that makes Speed Blackjack different from the standard version of the game is the dealing order. In the new game, the first two cards are dealt to all players just like in other Blackjack variants.
Here comes the twist: when the first two cards are dealt, all players are offered to make decisions at the same time. The player who Hits, Doubles Down or Splits first will receive their next card first. The dealing pattern continues until all players have made moves and have received additional cards.
No More Waiting
Commenting on the launch of Speed Blackjack, Todd Haushalter, Chief Product Officer at Evolution Gaming, explained that Blackjack players had made decisions from the dealer's left to right for the last hundred years or so. He said that everyone had had to wait for the deciding player since that was the way the game was played in casinos. Asking themselves why players should have to wait, Evolution decided to roll out a game-changer.
"With Speed Blackjack, players make their decision when they are ready and whoever is fastest gets the next hit card, giving the player more control," said Haushalter adding that it had no impact on the maths of the game.
With waiting time reduced, Speed Blackjack is about 30% to 40% faster, said Haushalter.
"I must say, it feels really good as a player because it is the game you know and love, but you have more control and there's much less waiting time," concluded he.
Click here to visit LeoVegas and give Live Speed Blackjack a try!