Evolution Launches Their Craziest Live Casino Game Crazy Time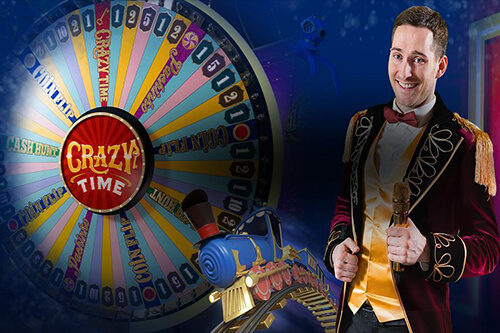 Evolution Gaming first showed their new Live Casino release, titled Crazy Time, at this year's edition of ICE in London, earlier this year. The game attracted lots of attention, especially as the developer described it as the craziest live casino game ever made. Now, after months of anticipation, the new game has finally hit the market.
About Crazy Time
Evolution Gaming used the wheel of fortune as the base for this game. Such an approach proved to be a smashing hit with their Monopoly Live game, but with Crazy Time they have taken it to a new level, with more bonus rounds on offer.
Players can place wagers on the outcome of the spin, with the wheel offering 1, 2, 5, and 10 as its possibilities. The number also represents a multiplier, and can significantly boost your winnings. Crazy Time also features a random multiplier that will make its appearance on every spin. It will be randomly placed on the wheel, going up to 50x in the base game. In addition to placing bets on numbers on the wheels, punters will be able to wager on the available bonus rounds, and that's where Crazy Time gets crazy.
How Bonus Rounds Work
There are four different bonus rounds available, distributed across nine compartments on the wheel. The Coin Flip appears on four different compartments, Pachinko and Cash Hunt – on 2, while Crazy Time appears on just one.
Here are all the bonuses:
Coin Flip – This is a rather simple round, where you pick a colour with a multiplier, and if you guess correctly, you receive the multiplier assigned to the colour you've chosen.
Cash Hunt – Multipliers hidden within colourful symbols are scattered all across the screen. Your task will be to pick a multiplier, and you can do that by using a cannon! You can claim a multiplier of up to 500x in this round!
Pachinko – This drop-down game will see pucks randomly fall into boxes containing multipliers or the word "double". The latter option allows players to get a new puck and further increase the size of the multiplier, even beyond its top value of 500x.
Crazy Time – The eponymous round of the game brings a large wheel of fortune with 66 compartments on it, offering special multipliers and doublers. This is also the most rewarding bonus round, as offer prizes worth up to 160,000x your wager!
Click here visit Evolution-powered live casinos to give Crazy Time a try!