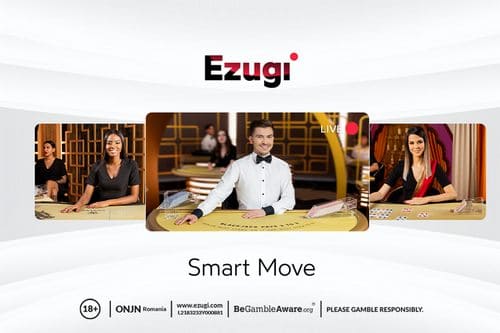 Ezugi has gone through essential changes recently, revealing the company's new identity. The first significant change is the brand-new visual identity, which includes a new logo and slogan matching what Ezugi stands for.
Ezugi has been part of the Evolution Group since 2018, contributing to the increase of Evolution's market presence and helping its growth. During that period, Ezugi enhanced the quality of its user experience.
Staying Competitive
The rebrand reflects the company's commitment to stay modern and competitive in the current online gambling market. The new slogan, Smart Move, perfectly illustrates Ezugi's vision. Focused on providing innovative content, the live casino provider strives to create sophisticated and high-quality content.
Since its inception in 2012, Ezugi has implemented the latest innovations to become one of the most influential names in the business.
The maker of live casino content today operates twelve studios, offering its customers more than twenty different game types. Ezugi's list of partners includes over 200 operators, with a constant desire to further expand its footprint.
Providing the Best Service to Customers Worldwide
When entering new jurisdictions, Ezugi pays special attention to compliance. It supports gaming standards and continually reviews these processes to make sure its content adheres to all regulatory measures.
Ezugi is present in many regulated markets around the world. In the Americas, the company's games are available in New Jersey, Curacao, Argentina, and Columbia. In Europe, Ezugi established its footprint in Belgium, Italy, Spain, Hungary, Romania, Bulgaria, Estonia, Latvia, Lithuania, the Island of Man, and Malta. South Africa is also on the list of jurisdictions where the live casino creator offers its content.
The new logo design aims to capitalise on Ezugi's live mentality. It also includes a prominently featured red streaming live do. A brand-new website has also been launched, together with a customer portal.