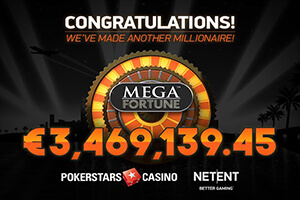 The NetEnt Mega Fortune slot has made another lucky player a multi-millionaire. This time, it is a player from Germany who hit a €3.5m jackpot while playing the progressive slot at PokerStars Casino.
Waited for Pizza, Landed Jackpot
According to the press release published on the NetEnt official website, the lucky winner arrived home from work late, at around 9 pm. He decided to relax a bit and play the Mega Fortune slot while waiting for a pizza to cook in the oven. He was playing the slot at a bet of just over €2 when the staggering win of €3.5m landed.
"I was numb and disbelieved for a few minutes," said the lucky winner from Lower Saxony, Germany.
Although his identity remains anonymous, NetEnt has revealed in their press release that the jackpot winner is a journalist and a chess fan. His wife was also in a state of shock when he shared the news.
However, they have some big plans for spending the prize and they include renovating their house. In addition, they want to buy a holiday home and an SUV van. Being the parents of two, they will also put aside funds for their children's university fees and share a part of the prize with family members.
Eighth Jackpot Worth over €1m in 2018
The €3.5m jackpot is the largest online win ever paid out at PokerStars Casino and the eighth Mega Fortune jackpot worth more than €1m in 2018.
"After breaking yet another record, NetEnt's Mega Fortune has once again underlined its legendary status among slots players," said Henrik Fagerlund, NetEnt Chief Product Officer.
In July, a lucky player from Sweden landed a life-changing €5,9m jackpot boosted by €650,000 thanks to NetEnt's Mega Million promotion. A sum totalling €6.6m has been the biggest jackpot paid out on Mega Fortune since December 2016.