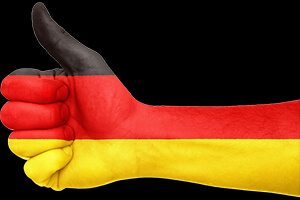 Germany is another European country that will liberalise its online gambling market. As of 1 July 2021, online poker and other casino games will be authorised due to new regulations German lawmakers have agreed upon. Also, the EU country will establish a new regulatory body.
Widening the Scope of iGaming
According to media reports, German lawmakers have agreed upon introducing a set of new regulations aimed at legalising more forms of online gambling. It should happen as of 1 July 2021 despite the criticism from industry experts. The new treaty on gambling called Glücksspielneuregulierungstaatsvertrag (GlüNeuRStv) should widen the scope of iGaming in Germany by allowing new forms of entertainment within the country.
After the heads of the different states discussed the new regulations and agreed upon them, the new rules should be officially ratified by state parliaments and handing over to the European Commission. As for the new gaming authority, it will be established in Sachen-Anhalt.
The plans to introduce new legislation were announced in January this year, and according to some sources, there have not been significant changes to it. So far, the treaty has been criticised by the industry because it includes the restrictions that may lead to reduced revenue.
Deposit Limit at €1,000 and €1 Stake Limit to Remain
The restrictions include limiting the markets players can bet on as well as imposing limits in live betting options. At this moment, players' deposits are capped at €1,000, which will not be changed by the new regulations. Also, a stake limit of €1 on slot machines will be imposed. Licensed slot games will not have the Autoplay feature while jackpots will be prohibited.
The new laws will also affect advertising with different states elected to bring in an advertising blackout that would last between 6 AM and 9 PM across the country. Industry experts are concerned that such a measure could push players towards unlicensed operators. On the other hand, the decision-makers believe that the GlüNeuRStV will be beneficial for all parties. They will provide customers with more options while protecting them from the risks of playing at unlicensed online casinos.
The reports show that 30 operators have applied for licences with the existing regulator while another 20 operators consider applying for licenses under the new legislation.