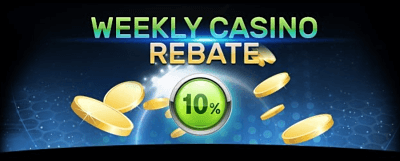 Drake Casino is a US friendly gaming venue that features an impressive selection of slot machines and table games with huge jackpots and prizes in store.
But don't despair if Lady Luck is not on your side because Drake Casino has a lucrative consolation prize – the Weekly Casino Rebate.
Keep on playing and every Tuesday, Drake Casino will give you 10% of your losses during the previous week.
How to Calculate Casino Loss?
If you want to know how much money can you expect to earn from your Weekly Casino Rebate, there is an easy formula to calculate it:
Casino Wins – Casino Losses – Bonuses – Rewards Cash – Rebates = Casino Loss
You'll be refunded 10% of the Casino Loss, while the funds will be immediately transferred to your bankroll and will be at your disposal at once.
Does it Pay Off?
Of course it does! 10% of your losses may not sound much, but can be a significant amount. For example, let's assume you win $500 during a week and lose $1000, with no bonuses, Rewards Cash or rebates.
According to the formula, your total losses are $500, and 10% of it is $50 for you. You definitely wouldn't mind extra fifty bucks in your account, would you? Most players wouldn't complain.
But that's not all when Drake Casino is in question. Many bonuses and rewards await, from a welcome bonus going up to $5,000 to other deposit bonuses, cash, merchandise and sweepstakes. Visit Drake Casino now and check their offer yourself!