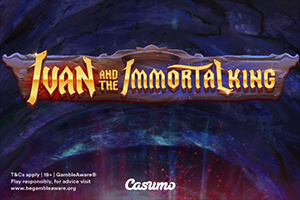 Ivan and the Immortal King, a brand-new slot coming from the Quickspin creative kitchen, has been exclusively launched at Casumo. Its players have a chance to give the game a try before anyone else.
About Ivan and the Immortal King Slot
Inspired by Russian folklore, the latest Quickspin release tells the story of Ivan Tsarevich, one of the main heroes of Russian folktales. This particular title is based on the story titled The Death of Koschei the Deathless and features Ivan himself, Koschei, an immortal evil king, and a female character, presumably Marya Morevna, the beautiful warrior princess Ivan gets married to.
The plot of the story is complex. In a nutshell, after Marya Morevna announces she is going to go to war, Ivan opens the door of the dungeon and finds King Koschei chained. When Ivan brings him some water, Koschei's magic powers return. Tearing his chains and disappearing from the dungeon, Koschei takes Marya Morevna away. Trying to save his wife, Ivan gets killed by Koschei and revived. To chase the immortal king, Ivan gets a magic horse from Baba Yaga, an enigmatic witch. The story has a happy ending with Ivan finding and killing Koschei and rescuing Marya.
Free Spins, up to 20x Multipliers and Baba Yaga Surprises
Fantastic bonus features accompany the fantastic story behind the slot. The biggest attraction of the game is the Free Spins feature. Depending on the number of Scatters, you can win 10 free spins at Chest level, 14 free spins at Hare level or 18 free spins at Duck level. It's all about the premise that Koschei's life force is hidden inside a needle. Now, the needle is hidden within an egg within a duck within a hare within a chest. You have to unlock the chest and break the needle by collecting 3 Progress Scatters and activating the next multiplier level with multipliers increasing up to 20x. While helping Ivan in his quest, you will obtain additional free spins.
The game also benefits from the Baba Yaga Surprise feature triggered when Baba Yaga appears on the reels. She can hide four random adjacent symbols and turn one to three of them into Bonus Scatters during the base game or into progress Scatters during free spins. Baba Yaga can also replace all hidden symbols by one randomly selected symbol for a guaranteed win. As you can see, there is a lot going on in the new Quickspin release due to launch on 11 December.
Click here to visit Casumo and play Ivan and the Immortal King before anyone else!