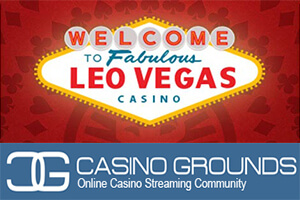 Swedish mobile gaming company and provider of online casino and sports betting services LeoVegas has announced the signing of an important new agreement with GameGround United AB, the owner of the CasinoGrounds online casino streaming community.
Under the provisions of the new deal, signed through LeoVentures Ltd, the LeoVegas-owned subsidiary, the Swedish side will acquire 51% of the stake in the company.
A Completely New Niche
The two sides agreed on a purchase price of €3.01 million, with a maximum payout of €1.5 million, which will be paid in full according to LeoVegas' estimates based on revenue performance during the period January-June 2018.
Founded in 2016, CasinoGrounds is the leading live streaming website, working closely with a number of operators and developers, offering its customers a chance to share their casino games via YouTube and Twitch. Its streaming platform and casino forum have become very popular and have a strong fan base.
The company has good profitability and finished the third quarter of this year with revenue of around €413,000.
Scaling Up Existing Operations
Commenting on the acquisition, LeoVegas Chief Executive Officer Gustaf Hagman said the company had seen a new behavior in CasinoGrounds in which persons interested in the casino were watching others play casino via YouTube and Twitch. He added CasinoGrounds had created a completely new niche through its live streaming and social platform, which were highly appreciated by players.
Hagman stated the combination of proprietary content and the moving picture format created exciting opportunities going forward and was in line with LeoVegas' strategy to be an innovative and entrepreneur-driven company.
LeoVegas has already worked together with CasinoGrounds, and with this move, it plans to take the existing operations to a new level by expanding its market presence.
The acquisition is expected to be completed by January 1, 2018, with LeoVegas having an option to buy additional 29% of the stake in 2021 or 2022.